How Sheryl Sandberg and Getty Are Making Stock Photos Less Sexist
Sheryl Sandberg's next mission: Making photographs of women less sexist
By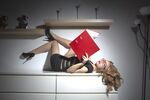 Say you're an advertiser on a stock-photography site, looking for a shot of a woman to put in your new campaign. "If you search for something like 'female workplace leader,' you come up with bunch of images of women in short skirts and high heels, holding wrenches," complains Jessica Bennett, a journalist who's working with Sheryl Sandberg's Lean In movement to fix this.
In February, that organization announced a partnership with Getty Images, the largest provider of these photos, to create a line of stock photos that depict mature, professional businesswomen, rather than ones who appear dumb, subservient, sexualized, or sometimes all three at once. "Or that weird trend of putting women in boxing gloves, what is that about?" Bennett asks. While stock photos may not be as obviously sexualized as say, fashion magazine spreads, Bennett believes they influence our perception of gender roles just as much. "You probably don't even notice it most of the time, which in a way, is even more damaging."
Getty has a library of over 150 million images that it sells to 2.4 million customers around the world. Those customers then plaster those images on billboards, run them in political campaigns, print them on national magazine covers, or use them to illustrate news articles when they don't have the time or incentive to photograph something themselves. Why take a picture of a banana, for example, when Getty has 8,449 pictures at the ready? Of course, Getty doesn't know the specifics of your banana needs, so each photo must have a very clear, literal meaning that separates it from all the other bananas out there. There are banana photos for healthy eating promotions, for grocery stores, and even an "orange being worshiped by a tribe of bananas," whatever that represents.
Sometimes, in simplifying things, stock photo agencies fabricate absurd situations that no one encounters in real life. (How often has a clown shown you photos of himself on his laptop?) But usually, they just wind up feeling clichéd. Type "work life balance" into Getty for instance, and you'll get 356 images, mostly of of people trying to use laptops while holding a baby.

If you type "businesswoman" into Getty's search engine, you're overwhelmed with questionable results: a businesswoman crawling on all fours, and not because she lost something under her desk; a young, attractive secretary giving a head massage to her boss; a secretary with an open shirt holding her glasses, sans bra; and yet another young professional sucking a lollipop while she leans over a young man's desk. Why is this happening? Even the guy seems confused.
Most of the 2,500 images that Lean In curated already existed in the Getty library; they're also commissioning others to fill in cultural gaps or equalize gender roles, and 10 percent of the proceeds from the sale of these photos will go to LeanIn.org. In the new gallery, female exercisers are actually working out, rather than just smiling with gym equipment. There are older woman, overweight people, and biracial families. There are even photos titled "Female woodworker sanding edge of custom cabinet" and "Heavy Metal Father with Daughter on Shoulders" for all your woodworking and heavy metal parenting needs. In fact, many of Lean In's photos aren't about women at all; a lot of them depict fathers in caregiver roles, braiding their kids' hair or holding a baby. Balancing gender roles isn't always about making women appear more professional.
Creation of the Lean In gallery hardly means the old stock photo stereotypes are going away. Sexy secretaries and leering co-workers are still available on Getty's website, and a benign search of "business meeting" photos turns up nearly three times as many pictures of meetings led by men as those led by women. "You have to remember, we have clients from all different industries and they all have different demands," says Pam Grossman, Getty's director of visual trends, who worked with Bennett to curate the Lean In gallery. Sometimes those demands involve co-workers without bras.
At least now there are options. And Getty's customers seem to be using them. Even before the Lean In collaboration, Grossman says she noticed a shift in the types of female stock images that companies were purchasing. In 2007, the most frequently used Getty image was of a naked woman lying on a table, covered in a sheet. "She was looking passively at the camera; it was really contrived," Grossman says. Last year the most popular photo was of a fully clothed, freckle-faced woman ("Much more authentic!" says Grossman) riding on a train. She's also noticed that the financial services industry has switched from licensing photos of men for its advertisements to requesting mostly photos of women. They're almost always lollipop-free.
Before it's here, it's on the Bloomberg Terminal.
LEARN MORE