Forget Cigarettes. A Less-Common Cold Season Pinches CVS
by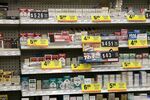 CVS held a bit of a health clinic for consumers and investors this morning: Cigarettes, Chief Executive Officer Larry Merlo emphasized, are far unhealthier than saturated fat. He was looking to head off criticism of his company's recent decision to stop selling tobacco products while keeping junk food and other less-than-wholesome products on its shelves.
"Let's be clear. You cannot compare a bar of chocolate or a bag of chips to a pack of cigarettes," Merlo said during a conference call Tuesday, responding to the insinuations of hypocrisy. "Those products, used in moderation, will not harm oneself. The same cannot be said about tobacco. There is no amount of tobacco use that is considered safe."
CVS also moved to quell fears over how much business it would lose from smokers shopping elsewhere for non-tobacco products. The company estimated it will initially forgo $1.5 billion a year in lost tobacco sales and $500 million in ancillary products that cigarette customers pick up—beef jerky, celebrity magazines, and cheap umbrellas that may or may not break after a single rainstorm, to name a few. The drug store chain is testing what kinds of new products might work well in the 8 to 10 feet of shelf space that will be freed up when it kicks the smoking habit.
But CVS underscored a larger point this morning: Much of its non-pharmacy business is tied up in health care. Why did the company post a slight decline in "front-of-store" purchases? Because the U.S. in the recent quarter didn't see nearly the outbreak of colds as it did in the year-earlier period. The entire "cough and cold" business was down about 5 percent, and CVS reported taking a hit due to the flu season's slow start.
As long as people keeping soldiering into work when they're under the weather, CVS is going to do just fine without cigarettes.
Before it's here, it's on the Bloomberg Terminal.
LEARN MORE