Commonwealth Bank Profit Climbs on Impairments Drop, Housing
Narayanan Somasundaram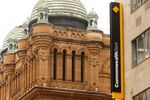 Commonwealth Bank of Australia, the nation's biggest lender, reported a 14 percent increase in first-half profit to a record on lower bad-debt charges and growth in home lending.
Cash profit, which excludes one-time items, rose to A$4.27 billion ($3.85 billion) in the six months ended Dec. 31 from A$3.75 billion a year earlier, the Sydney-based lender said in a statement. That beat the A$4.17 billion median estimate of nine analysts surveyed by Bloomberg. The bank set aside A$457 million for bad debts, 26 percent less than a year earlier.
CBA, which writes one in every four mortgages in the country, is gaining from a revival in home loans and a drop in funding costs. Outstanding mortgages in Australia climbed 5.4 percent in the year to December, the fastest pace in two years, data from the Reserve Bank of Australia show.
"The housing market is strong and CBA is a relative outperformer, giving it revenue and earnings momentum," Mark Nathan, managing partner at Sydney-based Arnhem Investment Management, which controls about $3.8 billion, said by phone.
"The benign bad-debts environment means well for the entire banking sector," Nathan said. "Having said that, a lot of the good news is factored into CBA's shares and the banking sector is overvalued. We are slightly underweight the Australian banks."
Shares Higher
Shares of CBA, which touched a record A$79.88 on Nov. 8, rose 0.4 percent to A$76.20 at the close of trading in Sydney. They advanced 25 percent last year, outpacing a 15 percent increase in the benchmark S&P/ASX 200 index.
Australia's largest banks are trading at the most expensive levels since before the global financial crisis. The lenders trade at an average of 2.1 times the net value of their assets, the highest since 2007 and a 79 percent premium over the MSCI World Bank Index, data compiled by Bloomberg show.
The bank's statutory net profit for the first half climbed 16 percent to A$4.21 billion, it said today. It will pay an interim dividend of A$1.83, up 12 percent from a year earlier and higher than a A$1.80 median estimate of analysts surveyed.
"The signs are that profitability in the Australian major bank sector will be strong by international standards during calendar 2014," Standard & Poor's credit analyst Gavin Gunning said in a report today.
Home Loans
Retail banking profit grew 10 percent from a year earlier to A$1.67 billion and institutional banking and markets profit climbed 13 percent, the bank said. Wealth management profit rose 19 percent.
Home loans grew 7 percent in Australia to give the bank a market share of 25.3 percent, while loans to businesses expanded only 3 percent from a year earlier, the bank said.
"There is little real evidence of a meaningful increase in investment in the rest of the non-resource sector of the Australian economy, other than in housing," Chief Executive Officer Ian Narev said in today's statement.
Bad-debt charges as a percentage of average gross loans dropped 6 basis points to 16 basis points, the lowest since the six months ended June 2007, filings by the bank show.
Net interest margin, a measure of lending profitability, contracted 3 basis points from the previous half to 2.14 percent due to continued funding and liquidity pressure, today's report showed. Competition for deposits remained strong, eroding margins, the bank said.
Deposits grew A$40 billion and made up 63 percent of CBA's total funding as of Dec. 31, the same proportion as six months earlier, the bank said. Australian banks are increasing deposits to ensure compliance with global liquidity rules that begin in 2015. The bank raised A$17 billion through bonds, it said.
Capital Ratio
Core Tier 1 capital, a measure of the bank's ability to absorb losses, increased to 8.5 percent at the end of December from 7.8 percent on Sept. 30, under the Australian Prudential Regulation Authority's measures.
Australia & New Zealand Banking Group Ltd. reported yesterday first-quarter cash profit climbed 13 percent from a year earlier on lower bad-debt charges. National Australia Bank Ltd. releases its quarterly results on Feb. 21. Westpac Banking Corp. doesn't update investors on its quarterly performance. At CBA, the fiscal year ends in June, compared with September for its main competitors.
Before it's here, it's on the Bloomberg Terminal.
LEARN MORE