Chinese Stocks in HK, Shanghai Gain on JPMorgan Forecast
Weiyi Lim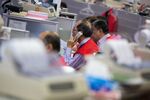 Chinese stocks rose, sending a gauge of Hong Kong-listed shares to its biggest gain in three months, as JPMorgan Chase & Co. predicted a market rally within weeks and China International Capital Corp. recommended insurers.
China Life Insurance Co. and Ping An Insurance (Group) Co. surged more than 5 percent in Hong Kong, while PetroChina climbed 1.6 percent after its parent discovered a natural gas reserve that's big enough to supply China's needs for two years. China Citic Bank Corp. led a surge for lenders in Shanghai as JPMorgan advised buying Chinese bank stocks and forecast a market rally of as much as 20 percent. Foshan Haitian Flavouring & Food Co. jumped 30 percent in its debut.
The Hang Seng China Enterprises Index rose 2.5 percent to 9,856.85 at the close, the biggest gain since Nov. 18 and paring this year's loss to 8.9 percent. The Shanghai Composite Index added 0.8 percent to 2,103.67, the biggest three-day gain since November. The ChiNext Index of small companies slid 1.7 percent.
"We recommend a trading buy of China equities, based on seasonality and all-time low valuations," Michael Yu, a strategist at JPMorgan in Hong Kong, wrote in a report dated yesterday. "We expect a 15-20 percent market rebound in the coming weeks, once growth stabilizes due to seasonality and the market's focus switches to structural reforms."
The H-shares gauge trades at 6.5 times projected 12-month earnings, compared with the five-year average of 9.6, according to data compiled by Bloomberg. The Shanghai measure's multiple rebounded to 7.9 times, after falling to 7.5 last month, the lowest since Bloomberg began compiling weekly data in 2005.
Financial Companies
A gauge of financial companies in the CSI 300 Index rose 1.6 percent. It trades at 5.9 times projected 12-month profit, up from a 5.5 multiple last month, the lowest since at least 2007. The CSI 300 gained 0.8 percent to 2,285.56 at the close.
China Citic jumped 10 percent in Shanghai, the most since March 2013, and 4.3 percent in Hong Kong, while Ping An Bank advanced 3.7 percent in Shanghai. JPMorgan said investors should buy Chinese banks because of low valuations, large dividends and a high return on equity. Citic traded at 4.2 times projected profit last week, the lowest level dating back to 2007, Bloomberg data showed.
"The rally is led by financials today because they are very cheap now," said Tang Yonggang, an analyst at Hongyuan Securities Co. in Beijing. "Citic surged by the daily limit because it's low in valuation and it's a very small company."
The benchmark money-market rate fell on speculation cash is starting to return to the banking system after the week-long Lunar New Year holiday. The People's Bank of China didn't conduct reverse-repurchase operations, according to a trader at a primary dealer required to bid at the auctions, as 450 billion yuan ($74 billion) of those contracts mature this week.
Insurers Rally
Ping An Insurance advanced 5.1 percent, the most since Nov. 18, in Hong Kong while China Taiping Insurance Holdings Co. jumped 9.5 percent. Both companies are CICC's top picks as the industry may post more than 40 percent life premium growth in January, analysts Tang Shengbo and Zhang Yu wrote in a report today. Strong sales campaigns and product upgrades will lead to a big surprise for the market which is only expecting "low single-digit" growth this year, the report said.
PetroChina advanced 1.4 percent in Hong Kong. China National Petroleum Corp.'s natural gas find in Sichuan province has a reserve of 440 billion cubic meters, of which 308 billion cubic meters are technically recoverable. A gauge of energy companies in the CSI 300 climbed 2.1 percent, the most among 10 industry groups, with Yangquan Coal Industry Group Co. rising 10 percent to lead gains for coal producers.
ChiNext Drops
The ChiNext dropped the most since Jan. 10 after reaching a record high yesterday. The 14-day relative strength index was at 75.94 yesterday, a level which some investors regard as an overbought signal. Huayi Brothers Media Corp. slid 4.6 percent, paring gains since the start of 2013 to 305 percent.
"The ChiNext has risen too much so it's going through a correction," said Du Liang, an analyst from Shanxi Securities Co. "It's been rising on expectations and some company earnings can't match these hopes. There's definitely a bubble and the risks are higher in small-cap stocks. It may have hit a ceiling for now."
Haitian Flavouring, which makes soy sauce, was halted from trading until five minutes before the close after rising by the 44 percent limit over its IPO price. The stock showed "abnormal volatility," according to a statement to the Shanghai Stock Exchange. The stock rose 15.2 yuan to 66.41 yuan.
Growth Story
The Shanghai gauge has rallied 5.7 percent since its price-to-earnings ratio fell to a record on Jan. 20, paring this year's loss to 0.6 percent. Trading volumes were 87 percent above the 30-day average, Bloomberg data showed.
Goldman Sachs Group Inc. Chairman and Chief Executive Officer Lloyd C. Blankfein said China's economic growth will have "huge consequences" for global expansion prospects.
"The China growth story is going to be the story of the next 30-40 years," Blankfein said in an interview with Bloomberg Television's John Dawson from Hong Kong. "We really need that growth in China to occur."
Before it's here, it's on the Bloomberg Terminal.
LEARN MORE