Cadillac Commercial Review: Someone Should Fix That Guy's Suit
by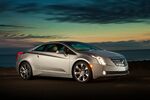 Before we pick what is admittedly the smallest of nits, let's just get this out of the way: Cadillac can do little wrong right now. The blue-chip General Motors brand sold 22 percent more vehicles in the U.S. last year, its CTS sedan ran off with the coveted Motor Trend Car of the Year award, and the latest lineup is being touted by every car geek with a keyboard as a legitimate rival to BMW's.
All of which makes the company's ad for its new electric hybrid coupe all the more puzzling. The commercial—currently running heavily during NBC's Olympic coverage—is a bit of patriotic braggadocio, in which actor Neal McDonough strolls around a gorgeous home in shorts and a polo shirt asking: "Why do we work so hard? For what? For this? For stuff? … Because we're crazy driven, hard-working believers, that's why."
The subtext is clear: While all the BMW engineers were drinking August away on Lake Como, ours were perfecting these awesome Cadillacs. Fair enough. But then McDonough disappears into a room and comes out wearing a two-button suit—with both buttons fastened.
The suit is sharp, but failing to leave the bottom button undone? Here's what Esquire has to say about that: "Don't button the bottom button of your suit jacket. Ever. It's the quickest possible way to make yourself look like you don't know what you're doing." The magazine also calls it "a scourge."
Cadillac spokesman David Caldwell said he didn't know if the suit styling was premeditated. And really, who cares? What does a suit have to do with selling a car? Nothing—if it's a Honda Fit. On the other hand, anyone willing to spend $75,000 on a coupe with coat hooks and a "cashmere" steering wheel certainly knows how to button his jacket.
Before it's here, it's on the Bloomberg Terminal.
LEARN MORE