An Intoxicating New Year: America's Alcohol Sales on the Rise
by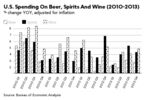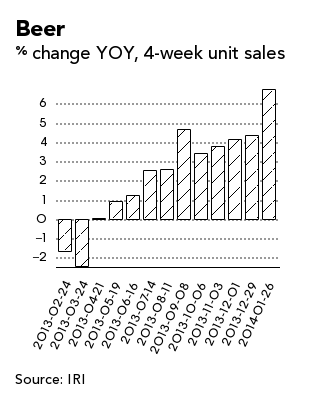 Americans are staying home and drinking more.
Homebound tipplers consumed more beer, spirits, and wine at home last month than in January 2013, according to data from IRI, a Chicago-based market research firm. It may be tempting to blame the weather—all those snow days at home—but, in fact, U.S. spending on alcohol has grown during every quarter over the last four years, as shown in the chart above. This is not a weather-related trend.
There's reason to think it might be a positive sign: Spending on alcohol correlates with consumer confidence, according to Kenneth Shea, senior beverage analyst for Bloomberg Industries.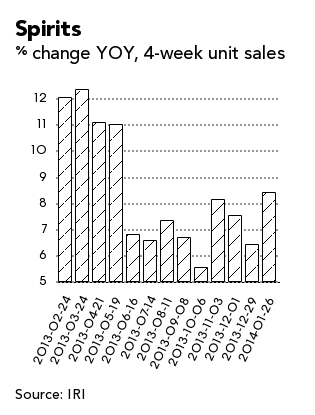 In the four-week period ending Jan. 26, the most recent data available, unit sales of beer from retailers (not restaurants and bars) increased 6.75 percent from the year-earlier period, according to IRI. New products boosted demand, such as Anheuser-Busch InBev's Bud Light Lime-A-Rita and Straw-Ber-Rita, says Shea. Craft beer continued to show strength too, growing to 7.5 percent of the U.S. market last year, from 4 percent in 2008.
Spirits sales rose 8.4 percent in terms of volume in January, according to IRI. Shea notes continued growth in demand for whiskies, particularly bourbons. Americans have also been more willing to experiment with new flavors and varieties, such as Diageo's Cîroc Amaretto, Johnnie Walker Platinum and Gold Bullion Reserve, and Captain Morgan White. Another boon, Diageo notes: Consumers are trading up to more premium products.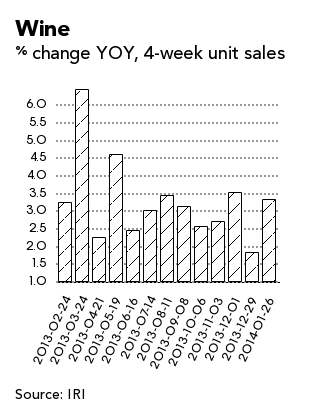 As for wine, unit sales rose 3.3 percent in January. At-home wine consumption increased by roughly 5 percent last year, according to Bloomberg Industries. U.S. shipments for Constellation Brands increased 3.3 percent in from January to September. Altria's Ste. Michelle Wine Estates increased shipments by 5 percent last year, primarily as a result of a 34 percent shipment increase for its 14 Hands brand.
Before it's here, it's on the Bloomberg Terminal.
LEARN MORE