In Shift to Sentimental Olympic Ads, Some Brands Keep Their Edge
By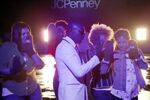 Just one week after we chuckled at Audi's Doberhuahua and a Radio Shack-ripping Chucky at the Super Bowl, and we've already moved on to the next big holiday of advertising: the Olympic Games. It's when brands are supposed to shed the slapstick humor in favor of odes to family and country, such as Procter & Gamble's "Thank You, Mom" campaign or Tim Hortons's "Good Ol' Hockey Game". At the Super Bowl, "you're trying to break through at a crowded party," says Allen Adamson of Landor Associates, a brand consulting firm. "The Olympics you watch as a family."
If so, someone at J.C. Penney must have misplaced that memo with the instructions for maudlin advertising. The retailer's Olympic ad celebrates alpine skier Ted Ligety with a parody of Blackstreet's 1996 hip-hop hit No Diggity—complete with gyrating dancers, a singer from the group, and a piano-playing puppet. The goal, ostensibly, is to persuade shoppers to support the retailer's push to raise funds for the U.S. Olympic Committee. Sample lyrics: "Round up your purchase to the nearest dollar/Proceeds go to the U.S.O.C./in Sochi/Go Ligety."
If an ad featuring suburban moms seductively biting their lips and kissing Ligety dolls while dancing in mitts to a pop song spoof seems like an odd way to tap the Olympic spirit, consider the source. This is, after all, the same retailer that sent strategically garbled tweets during the Super Bowl, prompting tens of thousands of onlookers to assume some drunk hijacked its account. So the company had some attention when it revealed the social media ploy to sell mittens:
J.C. Penney, despite its well-known problems and missteps, seems to be developing a knack for what Craig Millon of Jack Morton Worldwide calls "conversation-led marketing." Live events such as the Super Bowl and Olympics are massive conversation moments where people are commenting and connecting over what's happening in real time. "If you're just going to sit in a 30-second spot," says Millon, "it's not worth the investment." The goal is to become part of the unfolding conversation. By that measure, having your brand's message retweeted almost 50,000 times—even in jest—is a form of success.
Still, the #GoLigety video has racked up only about 35,000 views on YouTube. Compare that with the 14.5 million garnered by Procter & Gamble for its Sochi-themed "Pick Them Back Up" ads released a few weeks ago, which continue the "Thank You, Mom" theme that tugged at heartstrings during the 2012 London Games. By tapping into the physical and emotional journey of moving from babyhood to a top athlete, the ad is a perfect fit with the zeitgeist of the Olympics.
"This one clearly romances mom by letting her know how important her role is in her children's lives," says Atlanta-based brand consultant Tim Halloran, who recently wrote a book called Romancing the Brand. "Even the tagline is perfect: 'Proud Sponsor of Moms.'" He also likes Citibank's "Every Step of the Way" campaign that lets consumers decide where a $500,000 contribution will go to help future athletes "reach their full potential through sports programs that inspire."
Potential losers? Well, Halloran hasn't warmed to a Visa spot that features U.S. ski jumper Sarah Hendrickson soaring while Amelia Earhart's voice plays in the background. To him it feels forced and unrelated to Visa. BMW's "Driving on Ice" ads, which celebrate the carmaker's role in developing the two-man bobsled for the U.S. team, struck him as self-congratulatory and risky for staking a claim to a team that last won gold in the sport in 1936. In his mind, he says, both are examples of "mere attention grabbers." Maybe so, but if the goal is to get noticed during a rare moment where millions are focused on one event, grabbing attention may not be such a bad thing.