New Dollar Menu Isn't Helping McDonald's
By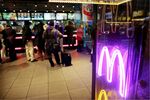 Three months since McDonald's relaunched its popular Dollar Menu as the Dollar Menu And More, with options ranging from $1 to $5, the chain has yet to boost sales. McDonald's reported today that same-store sales in the U.S. were down 3.3 percent in January, following a 3.8 percent decrease in December and a 0.8 percent drop in November.
Bad weather and an unexpected drop in consumer confidence worked against the chain in January. Traffic to U.S. restaurants was already down in the fourth quarter (which included about two months with the new menu) and down 1.6 percent for full year 2013.
The Dollar Menu and More aimed to give customers a "value ladder" based on their discretionary spending, Chief Executive Don Thompson said when it was launched. McDonald's hoped it would increase traffic to stores, improve margins, and give the chain some pricing flexibility.
"To date, results are in line with initial expectations," Thompson said during an earnings call last month. He noted "slight gains in guest counts"—though not enough to improve quarterly results. Price increases on the new Dollar Menu and More (for example, small fries, the McDouble, and Double Cheeseburger all went up from $1) benefited margins as the chain dealt with higher costs for commodities and labor. And despite complaints by some store owners that customers were ordering more Dollar Menu & More burgers and fewer premium items, the average check in U.S. McDonald's locations overall was higher in the fourth quarter, according to an earnings release.
These small boosts haven't been able to offset the chain's larger problems—namely, that American consumers seem less interested in eating at McDonald's restaurants. "Across the U.S., McDonald's is focused on regaining positive momentum with customer engagement, menu choice, and operations excellence initiatives designed to enhance the customer experience," the company said in a release. It recently said it will focus its attention on coffee in its cafes and supermarkets, breakfast products, and digital outreach, such as the McD app.
Before it's here, it's on the Bloomberg Terminal.
LEARN MORE