Lego Clicks Into Minifig Millions at the Box Office
by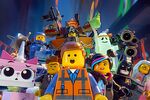 Little plastic men proved a far bigger box-office draw this weekend than George Clooney and his Monuments Men.
The Lego Movie collected $69.1 million in domestic ticket sales on its opening weekend, a handsome tally that will embolden anyone in Hollywood shopping an odd movie idea. With a $60 million production budget, the film is already well in the black for Warner Bros.
And the huge potential in merchandise sales may well overshadow any silver-screen success. Lego, the world's second-largest toymaker, is already selling 17 different affiliated building sets and a whole line of movie-based figures—to say nothing of lunch boxes, apparel, and soundtrack albums.
New toy sales aside, the secret to the project's success was largely nostalgia: tapping into adults with a soft spot for the little plastic building blocks and boxy figures. Nearly two-thirds of those who saw The Lego Movie thus far have been older than 18. Rave reviews didn't hurt, either. The film garnered a 95 percent approval rating on RottenTomatoes.com, a Flixster-owned site that aggregates criticism. Monuments Men, meanwhile, drew only 34 percent approval from critics tracked on the website.
It was a particularly good performance for a seminal—non-sequel—production, falling just short of Finding Nemo on the list of top-performing animated films and ahead of Up, Frozen, and Wall-E.

Clooney's Monuments Men, a World War II buddy film about rescuing artwork from the Nazis, garnered a not-shabby $22.7 million for Sony and 21st Century Fox, even partners on the production.
Warner Bros., which hasn't had much success with animated fare to date, already has a Lego sequel in the works. Here's how the film's producer, Dan Lin, described his vision to Businessweek:
What I've told Warner Bros. is that if this movie works, in the future you'll have live-action movies, you'll have animated movies, and you'll have Lego movies. It will be a new class of films that look photo real, that are very funny, and have a very specific tone.
Before it's here, it's on the Bloomberg Terminal.
LEARN MORE