Hollande's Willingness to Use Force Defies Doubters
Gregory Viscusi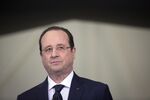 On Aug. 31, French Rafale warplanes were hours away from taking off to launch cruise missiles against Syria when U.S. President Barack Obama called off the joint strike.
In January 2013, President Francois Hollande rushed 4,500 French soldiers to Mali to repel a jihadist offensive and in December sent another 1,600 troops to the Central African Republic to stem ethnic fighting. In November, his foreign minister delayed a deal with Iran by pushing for stricter terms.
When Hollande arrives in Washington today for the first state visit in 18 years by a French leader, one that has been overshadowed by his personal tribulations, he'll come as the U.S. ally most willing to use force. He's been aligned with Obama on issues ranging from the Middle East to the euro debt crisis. The two leaders will seek to deepen a military alliance that stretches from eliminating militants in the southern Sahara to tracking pirates in the Indian Ocean.
"In a globalized world, the French realize they have lost influence and need allies," said Jonathan Eyal, international studies director at Royal United Services Institute in London. "Automatic anti-Americanism is out of fashion in France."
Today's close ties obscure the difficult relations that followed President Jacques Chirac's opposition to the 2003 U.S. invasion of Iraq, when "Freedom Fries" appeared on American menus. France's second-ever Socialist president has swept aside any concern he'd return to the country's past as a prickly and ambivalent ally. Hollande picked up on Nicolas Sarkozy's bid to strengthen trans-Atlantic ties, with policies that earned him the nickname "Sarko the American."
Some Tensions
The relationship is not without its tensions. Secretary of State John Kerry questioned a French business delegation's visit to Iran and Hollande called U.S. spying on foreign leaders unacceptable.
Still, the percentage of the French with a "favorable" image of the U.S. in 2013 was 64 percent, according to Pew Research's annual survey, up from a low of 37 percent in 2004. That's a higher percentage than in Britain or Germany and reflects popular support there for Obama, who withdrew from Iraq and is planning a troop exit from Afghanistan.
"There's increasing concern that the U.S. is not instinctively leading the charge and that puts a burden on European countries to act, especially for France in Africa," said Jon Alterman, a foreign-policy analyst at the Center for Strategic and International Studies in Washington. "France is stepping up and trying to assert a role in the world."
'Operation Serval'
The country's economic straits make it eager to team up with the U.S. military, which provided airlift, refueling, and intelligence for the year-old "Operation Serval" in Mali, and transported African forces for "Operation Sangaris" in the Central African Republic. The Obama administration backed both operations at the United Nations.
France has troops based in one-time colonial outposts, including Chad, Niger, Burkina Faso and Ivory Coast. It's also working closely with a U.S. drone base in Niger to track Islamic militants across the Sahel, the scrubby zone along the Sahara's southern edge.
"Perhaps nowhere is our new partnership on more vivid display than in Africa," Obama and Hollande wrote in a jointly bylined op-ed in today's Washington Post. "We have been able to take our alliance to a new level because our interests and values are so closely aligned."
Defense Spending
In 2013, the U.S. spent $682 billion on defense, 39 percent of the world's total, while France was in sixth place with $59 billion, according to the Stockholm International Peace Research Institute.
"Being aligned with the U.S. is a huge force multiplier" for France, said CSIS's Alterman.
French officials said the Sahel, Syria, and Iran will be the focus of talks in Washington, where Hollande will be the guest of a state dinner tomorrow.
French officials said he'll discuss more formal military cooperation with the U.S., to avoid a repeat of the start of the Mali operation when the French rushed in troops and then scrambled for the airlift and refueling capacity to support the mission.
Hollande, accompanied by a group of French entrepreneurs, will fly to San Francisco from Washington to meet Internet and startup companies.
Iraq Defiance
Chirac's decision to defy the U.S. over Iraq partly explains why the French haven't lost the taste for using force, unlike Britain where Parliament refused to go along with the Syria strikes. Obama called off the raid at the last minute to seek congressional approval, and then abandoned the whole plan in favor of an agreement to destroy Syria's chemical weapons.
"The French don't have the weight of Iraq on their shoulders," said Vivien Pertusot, head of the Brussels office of the French Institute for International Relations. "Britain still carries the stigma."
Polls showed the French public approved the Mali and Central African interventions. Even the Ecology Party, which is part of Hollande's coalition, said it would have voted in favor of the strikes on Syria.
Hollande's military interventions are the norm in French postwar history, said Louis Gautier, a professor at Paris 1 Sorbonne University who has written books on French defense and was military adviser to former Prime Minister Lionel Jospin.
Intervention Tradition
"It was Iraq that was the exception," Gautier said. "France has a long tradition of military interventions that's continued, regardless of which party is in power."
After World War II, France fought bloody and futile wars against nationalist rebellions in Indochina and Algeria before handing independence to most of its colonies in the early 1960s. The first French intervention in Africa after independence was in 1964, when parachutists blocked an attempted coup in Gabon.
Since 1990, French armed forces have been involved in more than 20 African operations, also including Rwanda, Somalia, Zaire, Comoros, Cameroon, the Republic of the Congo, the Democratic Republic of the Congo, the Gulf of Aden, and Chad, according to a Feb. 4 report by the Washington-based American Enterprise Institute.
While for the moment France is militarily more active, it hasn't replaced Britain as the U.S. military's closest ally, said RUSI's Eyal.
"It would be tempting to suggest that there has been a changing of the guard, and the roles of France and Britain have been reversed," Eyal said. "But the truth is that integration, planning and intelligence sharing are still much closer with Britain. The interoperability of the French is less good because they were out of NATO for so long. It takes time."
Before it's here, it's on the Bloomberg Terminal.
LEARN MORE