Hasbro Is Banking on Movie Blockbusters to Sell Toys to Boys
by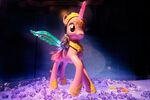 Parents may call Hasbro lots of things: all-star purveyor of My Little Pony, maker of living room clutter, corporate parent of Mr. Potato Head. For investors, however, Hasbro is less a pure toymaker than a merchandising extension of Hollywood blockbusters, be it Transformers or Star Wars. And as go the movies, so go Hasbro's fortunes. Which is why 2013—not a major year for kids' movie-toy franchises—was less than stellar, following broader trends in the industry that have hurt the story for toymakers.
Last month, the largest toymaker, Mattel, disappointed investors with a sales shortfall blamed on a 13 percent decline in sales of Barbie dolls and a slightly smaller drop for Hot Wheels toys. The weak holiday sales season has sent stocks across the industry lower so far this year, with Mattel down 22 percent, Hasbro 9 percent, JAKKS Pacific 18 percent, and LeapFrog Enterprises 10 percent. The soft sales have most toy companies focused on trimming their costs and on the potential for greater sales overseas.
Hasbro's revenue from boys' lines fell 22 percent last year, to $1.2 billion, including a 16 percent decline in the fourth quarter, due to what Chief Executive Brian Goldner called "a nonmovie year" today on a conference call. He expects this year to be much better: "2014 is just the first year of an unprecedented era of new boys' entertainment," Goldner said, citing the expected release in June of Transformers: Age of Extinction and two new films from Walt Disney's Marvel Studios unit—a second installment of the Captain America franchise in April and Guardians of the Galaxy in August. The second film in the revamped The Amazing Spider-Man franchise opens in May. This fall Disney is also planning to release Star Wars Rebels, an animated television series, followed by a Star Wars motion picture reboot from director J.J. Abrams in December 2015. "Own the stock for motion picture tie-ins," Piper Jaffray analyst Stephanie Wissink wrote today in a note to clients. She rates Hasbro as overweight, with a $60 target price.
At Hasbro, the decline in sales of toys aimed at boys was partially offset by a 26 percent increase in the company's portfolio of girls' toys, which topped $1 billion for the first time in 2013—tripling over the past decade—on the strength of its My Little Pony product line. Hasbro launched its Furby line internationally last year, which accounted for much of its revenue growth outside the U.S.
Before it's here, it's on the Bloomberg Terminal.
LEARN MORE