From Cupcakes to Salads, Vending Machines Offer Fresher Items
By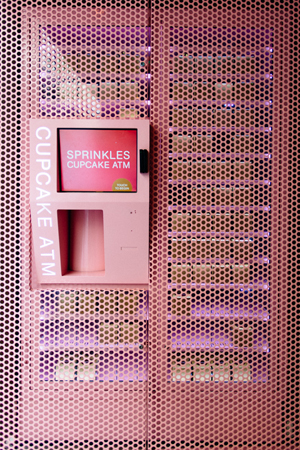 The vending machine has long been an object of antipathy and derision among a certain segment of American adults. The offerings—from potato chips to coffee cakes—traditionally have been unhealthy, and the machines are prone to technical glitches that reject your money. But several recent entrants in the vending marketplace are starting to offer fresh (or fresher) food in automated machines. Some of it even tastes good.
The latest offerings include baked goods from Sprinkles Cupcakes, which operates three cupcake ATMs, and salads sold from an automated kiosk run by Farmer's Fridge, a small company in Chicago. There's also caviar from an "automated boutique" in Beverly Hills, Calif., and Mexican food offerings by a Burrito Box in Santa Monica, Calif. Jamba Juice has started selling smoothies from vending machines: It planned to install at least 1,800 of its JambaGo machines in Target stores and elsewhere by the end of 2013 and another 1,000 machines this year. All this will add to the more than $40 billion that vending machines in the U.S. bring in each year.
How fresh can food dispensed by a machine be? The Jamba smoothies are made from prepackaged, preblended ingredients—not exactly farm to table. Sprinkles has opened its so-called ATMs next to its stores in Beverly Hills, Chicago, and Dallas so the machines can be replenished with fresh cupcakes. The company expects to open its first stand-alone kiosk by the end of the year, according to trade magazine QSR, and says these will also be stocked twice a day. One potential drawback: A new law requires any company that operates more than 20 vending machines to post the calorie count of the items on offer.
The salads at the Farmer's Fridge kiosk arrive every morning. They're packed in recyclable plastic jars and stacked in precise order: greens on top, cheeses and water-retaining fruits on the bottom, nuts in the middle. Protein, such as chicken, tofu, tuna, and salmon, is offered separately. Whatever remains at the end of the day is donated to a local food pantry. The founder, Luke Sanders, told the Huffington Post that he has a "very aggressive" plan to open other kiosks in the Chicago area this month.
America has a long way to go, though, when it comes to catching up to the vending machine offerings of other countries. In Australia, customers can buy french fries. In Britain and Italy, some machines offer made-to-order pizza. Baguettes can be bought in machines in France. Japan, however, is a standout. There you can buy bananas, apples, and tomatoes from vending machines, along with rice, beer, and sake.
Before it's here, it's on the Bloomberg Terminal.
LEARN MORE