Flappy Game Creator Quits, His Bird Flaps On
by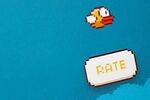 Sometimes the people who create major pieces of our cultural heritage recoil from the spotlight: J.D. Salinger, Dave Chappelle, Thomas Pynchon—and now Dong Nguyen, the Vietnamese developer behind the bafflingly popular smartphone game Flappy Bird. Nguyen took to Twitter on Saturday with an unusual warning that he would take down the game in 22 hours, and then he followed through. Flappy Bird is no longer available through the Apple or Google app stores.
Nguyen's rise to meme-like prominence defied logic and seemed to catch him off guard. He responded to questions on Twitter and did several interviews with news outlets, telling the Verge that he was making $50,000 a day in ad revenue from the free game and denying that he was using some sort of automated scheme to drive traffic.
But for some reason Nguyen eventually tired of being harangued by reporters, pursued by people claiming to be investors, and berated by frustrated fans. He pleaded for people to leave him alone on several occasions before finally pulling the game down in what seems to be an attempt to deflect attention. Before going dark on Twitter, the developer said that there was no legal reason he was pulling the game and that he would not stop developing games. Another message from Saturday seems to suggest that he hasn't sold the game to another company, although the ultimate fate of Flappy Bird isn't entirely clear.
Nguyen's reversal doesn't mean that you can't play his game anymore. Flappy Bird still works for those who have already downloaded it; Apple's developer page offers no clear way to delete apps from individual phones. And the game continues to run ads, which means that Nguyen continues to make money in his newfound obscurity. Nor is the Flappy Bird concept really under its creator's control at this point. Rip-offs are legion, from Ironpants and Flappy Plane to graphic-less Web versions seeming to ridicule us for being drawn in to Flappy Bird's charms in the first place.
So enjoy, until that moment hours—or maybe even days—from now when you get bored with furiously tapping the screen on your phone.
Before it's here, it's on the Bloomberg Terminal.
LEARN MORE