Ex-BOE's King Gauges World Interest Rate on Academia Return
Simon Kennedy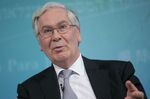 Former Bank of England Governor Mervyn King has returned to his academic roots with a study that aims to estimate what the world's interest rate is.
Published this month by the National Bureau of Economic Research, the working paper by King and David Low of New York University sought to explain how to measure inflation-adjusted interest rates in a global capital market.
Using yields on 10-year bonds across most of the Group of Seven nations, they calculated that the world real rate of interest was 0.605 percent in the final quarter of 2013. Weighting to account for different gross domestic products, it was 0.539 percent. The rates were negative as recently as the second quarter of last year, declining from almost 5 percent in 1992 and about 2 percent before the global financial crisis.
King, who lists the U.K.'s House of Lords as his contact address on the paper, has been working as a visiting professor at NYU since stepping down as the head of the U.K.'s central bank at the end of June after a decade. He also serves as a "distinguished visiting fellow" at the Council on Foreign Relations.
The working paper resumes King's contributions to academia. Prior to joining the Bank of England as its chief economist in 1991, he studied and taught at universities including the London School of Economics, Harvard University and Massachusetts Institute of Technology. At MIT, he shared office space with Ben S. Bernanke, who this month joined the Brookings Institution in Washington after stepping down as chairman of the Federal Reserve.
Public Comments
King, 65, has limited his public comments since passing the BOE governorship to Mark Carney, telling an audience in Chicago in October that the sustainability of economic recovery was uncertain and that "hubris in the banking sector" helped undermine the financial system. In a radio interview broadcast this month, he identified "The Prince" by Niccolo Machiavelli as his favorite book.
The research may be of interest to Carney after he told the World Economic Forum's annual meeting last month in Davos, Switzerland, that central banks have to work out where the so-called equilibrium rate of interest is and how far they have to keep their benchmarks below it "in order to provide the exceptional monetary policy stimulus that is still required to maintain momentum."
Before it's here, it's on the Bloomberg Terminal.
LEARN MORE