Drug Smuggler Corby Freed After 9 Years in Jail, Sky Says
Edward Johnson and Jason Scott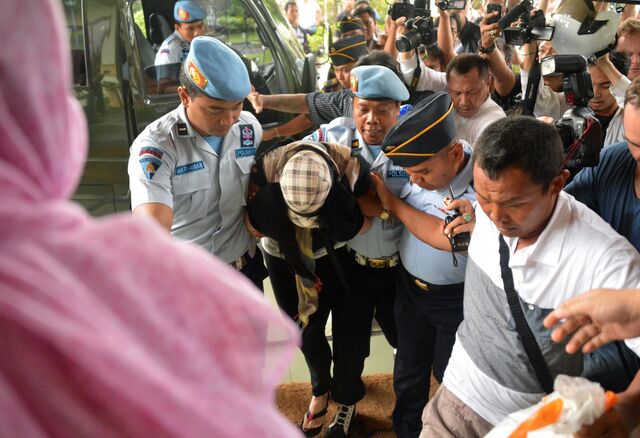 Australian Schapelle Corby was released on parole from a Bali jail today after serving less than half her 20-year sentence for drug smuggling, Sky Television News reported.
With a scarf wrapped around her head, Corby was led by officers from Kerobokan jail through a scrum of cameramen and bundled into a prison van before being driven to the prosecutor's office for her release to be processed, Sky reported, citing its reporter at the scene.
The former beauty-school student was convicted in May 2005 of attempting to smuggle about 4 kilograms (8.8 pounds) of marijuana into Bali. Corby, 36, protested her innocence, saying the cannabis was planted in her surfboard bag by a drug-smuggling ring.
The case has been front-page news in Australia, with one network last night broadcasting a made-for-TV movie titled "Schapelle" dramatizing the saga. All three commercial networks broadcast her release live today and the Australian newspaper, citing industry figures it didn't identify, reported last week that media may pay about A$1 million ($895,000) for exclusive rights to interview Corby.
She will remain in Bali during her parole and live with her sister Mercedes and brother-in-law, Sky News reported.
Australia's Department of Foreign Affairs and Trade didn't immediately respond to an e-mailed request for comment on Corby's release.
Death Penalty
Indonesia's drug laws, which can carry the death penalty for importation, have at times strained relations with Australia. Nine Australians, known as the "Bali Nine," were also arrested in 2005 and convicted of attempting to smuggle 8 kilograms of heroin out of Indonesia. Two of them are facing the death penalty, while the others received prison sentences.
Australia's relations with Indonesia have soured in recent months as Prime Minister Tony Abbott refused to apologize amid media allegations his nation had spied on its northern neighbor. Abbott also raised the ire of President Susilo Bambang Yudhoyono after the Australian navy breached Indonesia's sovereignty while pursuing a policy of turning back asylum seekers arriving from the Southeast Asian nation by boat.
Before it's here, it's on the Bloomberg Terminal.
LEARN MORE