De Blasio's Pre-K Tax Won't Get Vote, N.Y. Senate Chief Says
Freeman Klopott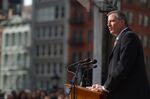 Mayor Bill de Blasio's plan to tax New York City's wealthy to fund universal pre-kindergarten is dead on arrival in Albany, according to the Long Island Republican who co-leads the state senate.
Dean Skelos, speaking today as de Blasio delivered his first State of the City address, said he won't let the chamber vote on the centerpiece of the mayor's agenda. Skelos must agree to any bill that comes to the floor under a powersharing agreement with four breakaway Democrats.
Asked at a press briefing in Albany whether de Blasio's plan would get a vote, Skelos said "no." Skelos has said he supports providing classes to every 4-year-old in the state.
"The governor has clearly indicated that you don't have to raise taxes in New York City," to make it happen, he said today.
De Blasio won office in November after promising to raise taxes on the rich to provide early childhood education. Governor Andrew Cuomo, a fellow Democrat and de Blasio's friend of 20 years, last month proposed a budget that would provide the program throughout the state without raising taxes.
Albany Showdown
De Blasio has been gearing up for a fight in Albany, where lawmakers and the governor control most local levies. Skelos's statement cleared the way for Cuomo's competing five-year plan, which would cost more than $2.2 billion to create pre-kindergarten and after-school programs statewide. De Blasio's tax would raise $2.5 billion for those programs just in the city.
"Raising taxes on the rich makes our commitment to our kids more than just words," the mayor said in the text of his speech. "It makes that commitment real. It makes that commitment fair. And it offers a promise to our kids that they can count on."
De Blasio, speaking at LaGuardia Community College in Queens, said the city couldn't let Washington's gridlock or the "limits of Albany" stop his mission of reducing the gulf between rich and poor.
The city's new mayor won election by the biggest margin for a nonincumbent in history with a campaign that depicted a metropolis divided. New York's richest 1 percent took home almost 39 percent of all earnings in 2012, up from 12 percent in 1980, according to the Fiscal Policy Institute, a nonprofit research group in New York.
Expired Contracts
On Feb. 12, de Blasio will propose an approximately $75 billion budget that unions will scrutinize for how he spends a surplus as big as $4 billion. Almost 300,000 municipal employees have been working under expired contracts.
Funds generated by raising taxes on income above $500,000 a year, to 4.4 percent from almost 3.9 percent, wouldn't be used to pay for new contracts, de Blasio has said. For the 27,300 taxpayers earning $500,000 to $1 million, the average increase would be $973 a year, according to the Independent Budget Office, a municipal agency.
"That's less than three bucks a day -- about the cost of a small soy latte at your local Starbucks," de Blasio said of the plan Jan. 1 when he was sworn into office by former President Bill Clinton. For those making $1 million to $5 million a year, the average extra tax would be $7,793, the budget office said. At incomes of $5 million to $10 million, the increase would be $33,518.
A married Manhattan couple with two children jointly filing with an income of $700,000 and taking standard deductions currently pays about $25,000 to the city.
Skelos was unswayed by De Blasio's argument that the increase wouldn't mean much for the wealthy and that the state's largest city should be allowed to set its own tax policy.
"The last thing we need is to see high earners leave New York state because then we lose their tax dollars," Skelos said today.
Marti Adams, a de Blasio spokeswoman, didn't immediately respond to a request for comment.
Before it's here, it's on the Bloomberg Terminal.
LEARN MORE