Commerzbank Said Seeking Debt Buyers in $6.8 Billion Spain Exit
Sharon Smyth and Nicholas Comfort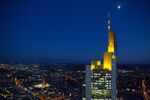 Commerzbank AG is sounding out buyers for a group of Spanish loans named "Project Octopus" as it seeks to sell about 5 billion euros ($6.8 billion) of debt linked to commercial real estate in the country.
The loans have been divided into four groups, one of which is non-performing, said two of the people, who asked not to be identified because the information is private. Interest on the other loans is being repaid and the portfolios have loan-to-value ratios ranging from as much as 85 percent to less than 50 percent, those people said. Commerzbank probably won't decide whether to sell or wind down the loans before the middle of the year, said one of the people.
A spokesman for Commerzbank declined to comment.
Commerzbank, Germany's second-largest bank, is winding down its real estate financing arm to focus on business and consumer banking after it received an 18.2 billion-euro bailout in 2009 from the German government, which now owns 17 percent of the lender. In July, the Frankfurt-based bank said it sold 5 billion euros of U.K. property loans to Wells Fargo & Co. and Lone Star Funds at a 3.5 percent discount to book value.
Commerzbank hired Lazard Ltd. to sell the loans, according to the people. Richard Creswell, a spokesman for Lazard in London, declined to comment.
Spain accounts for a majority of the German bank's real estate debt. Commercial-property loans totaled 5 billion euros at the end of September, according to Commerzbank's third-quarter earnings report. Of that, 3.3 billion euros of loans were performing and 1.7 billion euros were non-performing.
Commerzbank announced the sale of 710 million euros of loans from its Spanish commercial real estate portfolio last week.
Sales of commercial-property loans and real estate-owned sales totaled 30.3 billion euros in Europe last year, according to a Feb. 5 report by Cushman & Wakefield Inc. Spain represented 4.5 billion euros of transactions, second only to the U.K. and Germany.
Investment in European property debt is set to rise to 40 billion euros this year as funds such as Apollo Global Management LLC and Cerberus Capital Management LP buy debt cheaply and financing for purchasing debt becomes more readily available, Cushman & Wakefield said.
Before it's here, it's on the Bloomberg Terminal.
LEARN MORE