Fires Destroy 20 Homes in Victoria's Worst Blazes Since 2009
Edward Johnson and Elisabeth Behrmann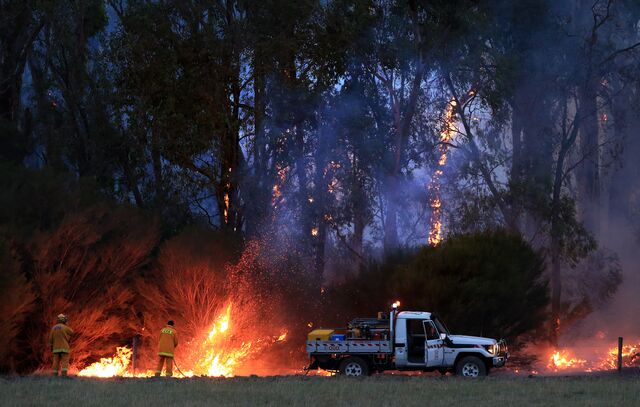 Wildfires destroyed about 20 properties in Australia's Victoria state in the region's worst blazes since the so-called Black Saturday tragedy in 2009.
The Country Fire Authority urged residents of Kilmore, about 75 kilometers (46 miles) north of the state capital, Melbourne, to take shelter, as a fire tore through grasslands. Four emergency warnings were in place across Victoria, where crews are battling 28 fires still burning out of control.
State Premier Denis Napthine said the southeastern state is facing its worst fire conditions in five years. "Credit goes to our firefighters in these very dangerous conditions," Napthine told the Australian Broadcasting Corp. in an interview today. "People need to be informed, make decisions early, leave early," when faced with a fire front, he said, adding no deaths or injuries have been reported.
In February 2009, fires across Victoria killed 173 people and destroyed 150 homes in the Black Saturday blazes, the worst in Australian history. The nation's hot, dry climate makes wildfires a major risk in the southern hemisphere's summer, reflected on Jan. 12 when blazes on the eastern fringes of Perth in Western Australia burnt 52 homes.
The season had an early start when more than 200 homes were destroyed in October, most in the Blue Mountains about 80 kilometers west of Sydney.
The Hazelwood power station is operating at less than 25 percent capacity after fires cut the electricity supply to the coal mine that feeds the operation, Trevor Rowe, a spokesman for GDF Suez Australian Energy said by phone. The network provider is working to repair the power line with supply expected to be back up this afternoon, Rowe said. Firefighters are also working to put out a blaze in an unused part of the Hazelwood coal mine, he said.
Before it's here, it's on the Bloomberg Terminal.
LEARN MORE