Rupiah Rally Seen on Jokowi Victory by Morgan Stanley to Maybank
Yudith Ho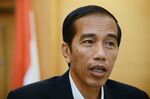 An Indonesian presidential victory by Joko Widodo would spark a rally in the rupiah, according to Malayan Banking Bhd. and Morgan Stanley. There's only one snag: the popular Jakarta governor hasn't been selected to run yet.
The currency will gain 7.6 percent to 11,300 per dollar by the end of the year should Jokowi, as he is known locally, win the July election, Saktiandi Supaat, head of foreign-exchange research at Maybank in Kuala Lumpur, said in a Feb. 5 interview. It would only advance to 11,700 if he doesn't win, he said. Morgan Stanley sees the rupiah strengthening to 11,800 by end-June, assuming Jokowi is a presidential candidate.
Indonesia's new leader will inherit a slowing economy that is beset by corruption and still adjusting to less U.S. stimulus and a rupiah that is 21 percent weaker than it was a year ago. For Jokowi to run he will probably need the backing of his Indonesian Democratic Party of Struggle that is led by Megawati Soekarnoputri, a former president and daughter of Indonesia's first post-independence leader who also wants the top job.
"The market will respond very positively to," a Jokowi victory, Michael Every, the Hong Kong-based head of financial markets research for Asia-Pacific at Rabobank International, said in a Feb. 5 interview. "He has so far managed to run clean administrations with strong participatory and democratic values. That's something that Indonesia, which is still a young democracy with powerful political, economic, and military vested interests, desperately needs."
Rupiah Estimates
The rupiah has strengthened 0.1 percent to 12,163 per dollar this year as of 12:51 p.m. in Jakarta, according to prices from local banks, the best performance among 24 emerging-market currencies tracked by Bloomberg. Its 21 percent plunge last year was the steepest in developing nations after Argentina's peso and the biggest loss since 2000.
Rabobank sees the rupiah gaining to 11,750 per dollar in 12 months and PT Bank Danamon forecasts it will rise to 11,000 by end-2014, both assuming a presidential victory for Jokowi. Oversea-Chinese Banking Corp. estimates the currency could reach 12,000 by year-end if the Jakarta governor is nominated, while it would probably weaken to 12,600 if he isn't, Wellian Wiranto, a Singapore-based economist, said in a Feb. 7 interview.
"A Jokowi nomination will deliver an uplift to the rupiah," he said. "There are still many moving parts to contend with. Not only does he have to be nominated, and win the presidential race, his party would also have to command a good portion of parliamentary seats for any reform momentum to persevere."
Poll Leader
Voters in the world's third-largest democracy go to the polls in April to elect a new legislature. Only parties who win at least 20 percent of seats, or 25 percent of the total vote, can nominate presidential candidates. Parties that win less support can form coalitions to do so.
Jokowi topped a poll by the Indonesian Survey Circle (LSI) conducted last month, attracting as much as 35.6 percent support. Coal tycoon Aburizal Bakrie, of the Golkar party, was second on 20.1 percent and the Gerindra party's Prabowo Subianto, a former army general, was third on 19.7 percent.
"With Jokowi showing a strong lead in the polls, our base case where he is announced as the Indonesian Democratic Party of Struggle (PDI-P) presidential candidate pre-April legislative elections should be enough to remove potential political concerns during the election run-up," Morgan Stanley analysts led by Hong Kong-based Geoffrey Kendrick wrote in a Jan. 29 research report.
Megawati's Decision
The daughter of Indonesia's first leader Sukarno, Megawati was president from 2001 to 2004, inheriting the job when her predecessor resigned. She has run in and lost the past two elections, capturing around a quarter of the votes compared with the 60 percent won by President Susilo Bambang Yudhoyono in 2009. Jokowi said last year that Megawati will decide whether he runs for the presidency.
"We don't even know if Jokowi will be a candidate," David Sumual, chief economist at PT Bank Central Asia, Indonesia's largest lender by market value, said in a Feb. 5 interview in Jakarta. "Our ideal scenario would be a simple majority in parliament with a strong opposition."
Southeast Asia's largest economy expanded 5.78 percent in 2013, its first year of sub-6-percent growth since 2009, official data showed last week. Gross domestic product will increase 5.4 percent this year, according to the median estimate of analysts surveyed by Bloomberg.
Corruption Scandals
The country has been rocked by a number of high-profile corruption scandals in the last year and was ranked 114 out of 177 on Transparency International's latest corruption perceptions index, below Ethiopia and Ecuador.
Rudi Rubiandini, former head of Indonesia's oil and gas regulator, was charged with bribery last month, following the October arrest of the country's top judge, who was found with the equivalent of more than 2 billion rupiah ($164,460) in cash at his Jakarta residence. Anas Urbaningrum, the former chairman of President Yudhoyono's Democrat party, was also named last year as a suspect in a corruption investigation.
Yudhoyono has struggled to implement reforms in his second five-year term. He failed to win support from within his own coalition to raise subsidized-fuel prices in 2012, before eventually succeeding in June last year. Jokowi's PDI-P party held a public rally to protest the resulting price increase after it had been approved.
'More Reforms'
The Jakarta governor told Bloomberg Television that he plans to increase the capital's budget by 75 percent this year by moving tax collection online and boosting oversight to tackle evasion. Since becoming governor in September 2012 he has also restarted construction of a monorail in Jakarta and pushed through the commencement of a mass rapid transit project, which had been delayed for decades.
"Both locals and foreign investors are rooting for Jokowi," Maybank's Supaat said. "Investors are keen on Jokowi as they've been fed this story from the local level up to the foreign-investor level that he will bring about more reforms."
Before it's here, it's on the Bloomberg Terminal.
LEARN MORE