Vatican Says UN's Child-Abuse Report Unfair as Talks Proceed
Andrew Frye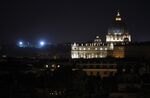 The Vatican said it was treated unfairly in a child-sex abuse report issued this week by a United Nations panel, while reiterating it will continue to cooperate with the committee for the protection of minors.
"It is typical, in fact, that these organizations don't want to recognize how much has been done by the Holy See and the Church in recent years in recognizing errors, renewing laws and developing educational and preventative measures," Federico Lombardi, the Vatican's spokesman, said today in a statement. The Holy See "will continue in its commitment to implement the convention and maintain an open and constructive dialogue."
The Feb. 5 report, published by the Geneva-based UN Committee on the Rights of the Child, accused the Vatican of enabling sex offenders and protecting its reputation rather than victims, which it said numbered in the tens of thousands. The findings also said children entrusted to the Catholic Church's care were endangered by beatings, sexuality-based discrimination and a culture that stigmatized reproductive education and health.
The Vatican, in its reply today, said the panel was blinded by ideology that extended beyond its mandate.
"This might be the most serious observation," Lombardi said. The committee's findings "give instructions that involve moral judgments, from contraception to abortion or family values or the vision of human sexuality, in the light of its own ideological vision of sexuality."
The committee's recommendations were made after an objective examination of all information pertaining to the application of the UN Convention on the Rights of the Child, Ansa cited the committee's chairwoman Kirsten Sandberg as saying in a statement to the news agency.
Before it's here, it's on the Bloomberg Terminal.
LEARN MORE