Valspar's Paint Seen as Target in Home Rebound: Real M&A
Laura Lorenzetti and Jack Kaskey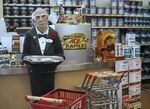 Valspar Corp. is shaping up as a prime acquisition candidate for companies trying to consolidate the fragmented paint industry and profit from a housing rebound.
Valspar gives Sherwin-Williams Co. or PPG Industries Inc. the chance to gain more paint shelf space at Lowe's Cos. in the U.S., said Robert W. Baird & Co. The $5.9 billion company also offers industrial coatings to line products like soda cans and more international business in countries such as Australia where home construction is also picking up.
As interest rates remain at historic lows and housing prices inch up across the U.S., paint sales are expected to grow faster than in recent years, said Northcoast Research Holdings LLC. Valspar, which is poised to post record revenue this year, will increase sales at a faster rate over the next three years than 91 percent of U.S. specialty-chemical peers, including Sherwin-Williams and PPG, according to data compiled by Bloomberg.
"The growth prospects of Valspar compared to peers is in line if not better," Kevin Hocevar, a Cleveland-based analyst at Northcoast Research, said in a phone interview. "Interest rates have come down, house prices are up, the data are getting better. It's only a matter of time before the paint segment follows."
Charles Nicolas, a spokesman for Valspar, declined to comment on takeover speculation.
John Deere
Valspar is the fifth-biggest producer in the $110 billion global coatings industry, behind Pittsburgh-based PPG, Amsterdam-based Akzo Nobel NV, Cleveland-based Sherwin-Williams, and Carlyle Group LP's Axalta unit, according to a November presentation by PPG. The industry includes architectural paints, packaging coatings and industrial coatings.
Home and automotive paints accounted for 39 percent of Valspar's $4.1 billion of revenue in fiscal 2013, while more than half of its sales came from its higher-margin industrial coatings business, which includes durable paints for products like John Deere tractors and Caterpillar bulldozers and also coatings that protect food containers.
"Valspar is the one company out there with geographic breadth and market breadth," said Dmitry Silversteyn, an analyst with Independence, Ohio-based Longbow Research. "There's a lot to like about this company if you're a coating manufacturer."
Food Packaging
Buying Valspar, whose paint is sold at Lowe's, would give PPG three of the four main architectural paint brands at home-improvement retailers Home Depot and Lowe's, said Hocevar at Northcoast Research. PPG already sells Olympic paint at Lowe's and Glidden at Home Depot.
Valspar, a 208-year-old company, also acquired the Ace Hardware private label last year and expanded at Lowe's with a professional paint line.
Valspar is the leader in the $3 billion market for packaging coatings. That would be appealing to PPG because the unit's products fetch a higher price since they must be approved by the U.S. Food and Drug Administration, Hocevar said.
"PPG would like to own inside-the-can type of technology, because it's a higher-margin product," he said.
Last month, PPG said it plans to spend $3 billion to $4 billion on acquisitions and share buybacks in the next 18 to 24 months. Jeffrey Zekauskas, a New York-based analyst at JPMorgan Chase & Co., said the company will generate enough cash to spend as much as $5 billion in the next 18 months, according to a Jan. 17 report.
"We are looking at acquisitions that would strengthen our coatings portfolio," Bryan Iams, a PPG spokesman, said today by phone. He declined to comment on potential targets.
Antitrust Scrutiny
While Valspar also would offer PPG the opportunity to expand its higher-margin industrial coatings, such a merger would face serious antitrust scrutiny, said Silversteyn at Longbow. The companies may have too much overlap in industrial coatings in North America and Europe, he said.
Sherwin-Williams, which sells its paint from namesake stores that cater to professional contractors, could gain access to the do-it-yourself market served by Lowe's and Home Depot by purchasing Valspar, said Silversteyn.
"They have the financial muscle to do it, and it would close the three holes that they have: lack of geographic breadth, lack in industrial and improved presence in DIY channel," he said in a phone interview.
Mike Conway, a Sherwin-Williams spokesman, declined to comment on potential acquisitions.
Sales Growth
About 80 percent of Sherwin-Williams's sales are in the U.S. where it's the largest paint retailer, while 44 percent of Valspar's revenue came from outside the U.S. -- in Australia, China and Europe.
Valspar is projected to boost its total revenue by 22 percent from 2013 to $5 billion in 2016, according to analysts' estimates compiled by Bloomberg. That's faster than 20 of 22 other U.S. specialty-chemical makers with market values higher than $1 billion, data compiled by Bloomberg show.
In an effort to diversify beyond the U.S. market, Sherwin-Williams bid $2.3 billion for the Consorcio Comex SA, Mexico's largest paint maker. Sherwin purchased only the U.S. and Canada parts of Comex for $165 million after Mexico's antitrust regulator blocked the rest of the deal. If Sherwin-Williams's latest appeal isn't resolved in the coming months, then the company has the financial firepower to go after another target, Ghansham Panjabi, an analyst at Baird, said in a phone interview.
Consolidating Industry
Valspar also has gotten more expensive, with its stock rising 58 percent in the past two years, almost double the gain of the Standard & Poor's 500 Index. To even consider an offer, the board may now require a bid of about $100 a share, said Longbow's Silversteyn. Valspar shares closed at $69.60 yesterday. Today, they rose 2.6 percent to $71.40, the biggest gain since Aug. 1.
"Valspar's currently at a transformative stage," said Silversteyn. "And in their mind they think they can get to the triple-digit price on their own, so they certainly won't sell for less than that."
All of the big coatings makers, including PPG, would be interested in adding to their house-paint business with Valspar, said David Begleiter, a New York-based analyst at Deutsche Bank AG.
"You have seen, over time, coatings has been a consolidating industry because scale is critical and costs are critical in this industry," he said by phone.
Before it's here, it's on the Bloomberg Terminal.
LEARN MORE