The U.S. Labor Market Cools, and It's Not Just the Weather
By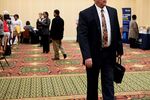 Another disappointing employment report this morning. The economy added just 113,000 jobs in January. The average prediction by economists surveyed by Bloomberg was for a gain of 180,000.
The weak report is better than the 74,000 jobs created last month, which was the worst month of job creation in three years, but it shows December's weakness was more than just an aberration. The hope was that historically bad weather in December led to a bizarrely low number that would soon get revised up. And it did get readjusted, just not by that much. Today's report boosted December's job growth by a total of 1,000 jobs, to 75,000. November's job total went from 241,000 to 274,000. (When reading these numbers, keep in mind that the margin of error is plus or minus 90,000 jobs.)
The weather didn't improve in January, with more record low temperatures and big snow and ice dumps across much of the country. That's why we have seasonally adjusted data, to take these things into consideration. After two straight months of big misses on the jobs front, though, it's not just the cold weather that's slowing down hiring. There's something else going on, too.
Part of the drag is that the government keeps shedding workers. While the private sector added 142,000 jobs last month, government payrolls shrank by 29,000. Those cuts were pretty evenly distributed between the federal government, which lost 12,000 jobs, and local government, which cut 11,000 jobs, 8,700 of which were to local education staff.
Overall, not a lot changed over the past month. The number of hours people worked in a typical week stayed at 34.4. Average hourly wages increased by five cents, from $24.16 to $24.21. The number of people without jobs (10.2 million) stayed basically the same, and yet the unemployment rate fell a tick, from 6.7 percent to 6.6 percent. The expiration of emergency unemployment benefits for more than a million Americans seems to have played into that slightly, as more people dropped out of the job hunt and are no longer counted as unemployed.
Despite that, the labor force did grow by 499,000 people, raising the participation rate ever so slightly to 63 percent, from 62.8 percent in December. According to the household survey, total employment grew by 616,000, pushing down the unemployment rate for the right reason for a change, as a smaller share of people in the labor force were not unemployed.
Still, it's not exactly what the Federal Reserve wanted to see when it said in 2012 that it would keep short-term interest rates near zero as long as unemployment remained above 6.5 percent. Much of the reduction over the past year has come from declines in the labor force participation rate. The Fed is now two months into the taper, and stopping now would damage the central bank's credibility. So it must continue, despite the labor market still being in pretty bad shape.
There were a few, small bright spots. The bulk of new jobs came from better-paying sectors than we've typically seen. Manufacturing, construction, and professional and business services all had a strong month of hiring. The biggest gains we typically see come from the retail trade like bars, clothing stores, and restaurants.
One final note: Last month marks the six-year anniversary of the peak number of jobs in the economy. The economy lost 8.7 million jobs in the recession, and has since added 7.8 million. So after four and a half years of economic growth, we're still nearly 1 million jobs short of where we were in 2007.
Updated at 10:52 a.m. with more details about the labor force participation rate.
Before it's here, it's on the Bloomberg Terminal.
LEARN MORE