On Second Thought, JPMorgan Executive Won't Advise Commodities Regulator
by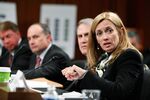 That didn't take very long. Blythe Masters, the JPMorgan Chase commodities chief whose responsibilities include a unit that was involved in a $410 million settlement with regulators, has withdrawn from an advisory committee to the top U.S. commodities regulator. Her role on the Commodity Futures Trading Commission panel had become known only yesterday.
JPMorgan agreed to the payment—the largest penalty in the regulator's history—in July to resolve Federal Energy Regulatory Committee allegations that the bank manipulated energy markets over a three-year period, without admitting or denying guilt. Masters oversaw the unit at the heart of the matter. The CFTC said yesterday that Masters had joined its Global Markets Advisory Committee, made up of executives at major banks, hedge funds, exchanges, and other financial institutions. The response online was scathing. "The Farce Is Complete," read the headline on Zero Hedge, a popular industry blog. "[T]his certified commodity market manipulator just got a job with none other than the head commodity regulators in the US?"
Bloomberg News reported this morning that Masters had pulled her name from the committee, citing people with direct knowledge of the matter.
Masters was profiled by Bloomberg Businessweek's Paul Barrett in September, on the fifth anniversary of the financial crisis. Masters, a JPMorgan lifer, had been involved earlier in her career with the creation and marketing of credit derivatives, which would come to play a central role in the 2007-08 meltdown of the subprime mortgage market. "It is important to distinguish between tools and their users," Masters said in an October 2008 speech, after Lehman Brothers went bankrupt, triggering a panic.
"After the crash, Masters and many others on Wall Street tried to walk away from what they'd helped cause," Jeff Connaughton, a longtime political aide and lobbyist, told Barrett. "You can't market incredibly risky securities and then pretend you're shocked when things get out of control, especially when you and your bank have made huge profits along the way."
Before it's here, it's on the Bloomberg Terminal.
LEARN MORE