Jay Leno's Finale Sequel Attracts an Even Bigger Audience
By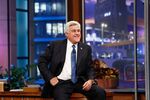 Jay Leno might have been ambivalent—again—about stepping down as the host of The Tonight Show. But on Thursday night a huge number of TV viewers enthusiastically showed up to watch him say goodbye for a second time.
Leno's final episode of Tonight attracted 14.6 million viewers overall, according to Nielsen estimates, the show's largest audience since 1998. By comparison, Leno's original send-off in 2009—when he briefly and disastrously handed off the show to Conan O'Brien, only to make a controversial return a short time later—was watched by 11.9 million viewers.
Jimmy Fallon, who is taking over for Leno, will face an immense challenge. Over the years, since the rise of cable TV and the Internet and the advent of DVRs, Tonight and the other late-night acts on broadcast networks have suffered a gradual erosion in market share. Even so, Tonight remains a big business for NBC. In 2012, according to Kantar Media, the show took in an estimated $146 million in ad revenue, down from $155 million in 2010. It will be Fallon's job to try to reverse the slide.
On Thursday night, Leno's jumbo audience was boosted, in part, by a strong lead-in from NBC's first night of advance coverage of the Winter Olympics. Still, it reflects a frothy TV environment in which certain big mega-events—premiers, finales, award shows, sports championships, Leno farewells—attract record numbers, even as the overall TV market splinters into niches.
Perhaps that's because, as David Carr recently noted in the New York Times, "There is, even in an age of individualized media cocoons, a deep hunger for a common experience and all the ritual that accompanies it."
Before it's here, it's on the Bloomberg Terminal.
LEARN MORE