Good News for Clay Aiken: American Idol Fans Are Republicans
By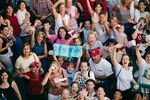 Clay Aiken didn't win American Idol, and he's going to have an even tougher time getting elected to Congress. As I wrote this week, the incumbent Republican he's hoping to knock off in North Carolina's 2nd District, Representative Renee Ellmers, seems like a pretty good fit for the district. Ellmers is a conservative, but one right-wing pressure groups like Heritage Action have attacked for not hewing closely enough to conservative orthodoxy, which puts her squarely within the mainstream of the Republican Party. The Cook Political Report rates the district R +10, meaning that it skews Republican by about 10 points. In 2012 the 2nd District went overwhelmingly to Mitt Romney (57.6 percent) over Barack Obama (41.3 percent). And according to David Wasserman of the Cook Report, no non-incumbent Democrat has won a seat in a district greater than R +6 since 2008.

So Aiken is going to need to attract a lot of Republican voters to have any shot at victory. Can he do it? I'd say probably not. But if you dig deep enough into the demographics of who his likely supporters might be, it turns out Aiken may have a hidden source of strength: American Idol viewers. Will Feltus, senior vice president at National Media, a political media research and ad placement firm in Alexandria, Va., tracks audience demographics of prime-time television shows. He and his colleague Jennifer Dube took a look at Idol viewers and produced the chart above, which plots the partisan skew and propensity to vote of the audiences of most big reality TV shows. What it shows is good news for Aiken.
Prime-time television audiences generally skew Democratic, but a number of reality shows actually skew Republican. Viewers of American Idol are more Republican than audiences of many other reality shows—and as the size of the bubble indicates, there are a lot of them. Idol viewers also have a fairly high propensity to vote, unlike, for instance, viewers of Extreme Makeover: Weight Loss Edition, who seem to stay home on Election Day.
I'm not sure how many American Idol viewers today would feel any kind of bond with Aiken, who appeared on the show in 2003. But at least in theory, these Republican-leaning Idol fans could be an unexpected source of strength. Whatever bump Aiken gets from Idol fans, Feltus points out that other shows skew even more Republican. "If he really wanted to attract the crossover vote," Feltus says, "he should have been on The Bachelorette."
Before it's here, it's on the Bloomberg Terminal.
LEARN MORE