Gauging Small Business Hiring in January
by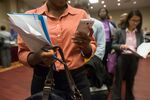 The U.S. economy added 113,000 payroll jobs in January, according to data from the Bureau of Labor Statistics. How many of those jobs were at small businesses? That depends on who's counting, and how they define small. For the most part, last month's small business hiring surveys indicated employers are likely to add more jobs this year than they did in 2013.
Here's the New Entrepreneur's roundup of small business hiring and sentiment snapshots for January:
• Hiring increased more slowly in January than it did in December, according to a survey of 1,864 members of the National Federation of Independent Business, most of which have fewer than 20 workers. Despite the slower pace of hiring, results were "solid," said NFIB economist William Dunkelberg in a statement. Respondents were more bullish about future job creation plans than at any point since September 2007.
• The CBIZ Small Business Employment Index, which measures hiring at companies with fewer than 300 workers, decreased last month. The report isn't seasonally adjusted, according to CBIZ Payroll Services President Philip Noftsinger, who called the results "decent" after accounting for bad weather and the absence of holiday sales.
• Small businesses added 75,000 jobs in January, according to payroll processing firm ADP. That's less than the average of 83,000 monthly jobs added by small business last year. Companies with fewer than 20 workers were responsible for 42,000 new jobs in January.

• Hiring and pay decreased slightly in January, according to indexes compiled by Sure Payroll reflecting trends at companies with 10 or fewer workers. Eighty percent of small business owners polled by the company said they expect to be profitable in 2014 barring a major economic downturn.
• Small business owners are more optimistic than they've been in five years, according to a survey published this week by Wells Fargo and Gallup.
• An employment report released this week by the Small Business Administration Office of Advocacy anticipates a strong year for small business hiring in 2014.
• The unemployment rate for unincorporated self-employed workers and unpaid family workers was 5.2 percent last month, down from 5.8 percent in January 2013, according to the BLS.
Before it's here, it's on the Bloomberg Terminal.
LEARN MORE