Four Ways Technology Will Soon Update Your Wardrobe
by
Sure, Google is making eye-computers and Nike bracelets will watch you sleep, but there are plenty of other things happening on the wearable-tech front. Just take a look at the number of design patents filed in recent years.

On the ice-glazed streets of Manhattan this morning, while twiggy women teetered into Fashion Week tents pulsing with bass, a bunch of designers and attorneys gathered at Fordham University's Fashion Law Institute to talk about patents, cool clothes, and the technology breakthroughs most likely change what we wear in the near future. Here are four big developments to watch: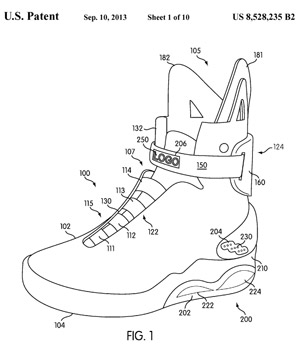 1) Self-lacing shoes: Sneakerheads have been salivating for these since 1989, when Marty McFly sported a pair in Back to the Future II. A quirky little tech company named Nike even recreated the shoes to much publicity in 2011—a tiny release to raise funds for the Michael J. Fox Foundation.
Now Nike has finally secured a patent for the kicks, which will feature a spring coil, a bunch of lights, and a dock to charge the shoes like a pair of giant rubber smartphones. Nike's patent attorneys pointed out that the design could work in a wide range of footwear, including ice skates, ski boots, and cycling shoes. Will shoe chargers proves to be a game changer?
2) Smart purses: The potential for wireless—or "inductive"—charging is evident for anyone who has ever futzed with headphones on a crowded train or scoured a barren airport for an electric outlet. Last year Everpurse started selling handbags that charge smartphones with no plug required. Now the company is working on ways to have accessories alert people about lost keys or forgotten ID cards. Ultimately, it's hoping to license the technology to a range of big-name apparel makers. "Co-branding is a big deal for us," Everpurse founder Liz Salcedo said this morning. "We'd really like to have the 'Intel-inside' model."
3) Body-scan bespoke: Think airport security meets Savile Row. A suit maker no longer needs a keen eye, a steady hand, and a few decades of tailoring experience to get a great fit; a fancy computer and a bunch of algorithms will work just fine. Accustom Apparel, a New York startup, performs body scans that collect more than 200,000 data points. Its tailors don't even have to ask, "How's it hanging?" (as some traditional suit makers do).
4) Computer camouflage: The seminal round of wearable tech gadgets wanted to make themselves known. They needed design that shouted: "Hey, this is a computer on a wrist/face/foot." That kind of sartorial braggadocio is so 2013. Next season we'll see a lot of cyber accessories with a fashion-forward face that cooly announces: "There might be a computer in here, but so what?" Google just announced a plan to offer four additional frames for its Glass product, fast shedding its Star Trek aesthetic. Meanwhile, Fitbit recently struck up a partnership with Tory Burch, for those who want to track their activity with something that looks "superchic," or at least more sophisticated than children's Play-Doh.
Before it's here, it's on the Bloomberg Terminal.
LEARN MORE