FIFA President Blatter Says He'll Stand for Fifth Term If Asked
Ben Priechenfried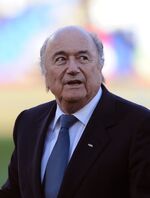 Sepp Blatter said he'll stand for re-election as president of FIFA if the soccer ruling body's constituent members ask him to.
"I'm not announcing now that I'm going to be a candidate, but if the member associations asked me to be a candidate, I would not say no," Blatter told Switzerland's RTS in an interview broadcast today.
So far only Jerome Champagne, previously a FIFA deputy general secretary, has announced a formal bid to replace Blatter, whose term ends next year. The former French diplomat unveiled his candidacy in London last month.
Blatter may use FIFA's annual congress on June 10 to seek support for a possible bid for a fifth term. The Sao Paulo meeting, attended by the 209 member countries, takes place two days before the start of the World Cup.
The 77-year-old from Switzerland has held the sport's most powerful post since replacing Joao Havelange in 1998. He was re-elected in 2002, 2007 and 2011.
The only challenger to Blatter's last re-election, Mohamed bin Hammam, pulled out amid an investigation into claims he tried to bribe Caribbean voters with $40,000 payments stuffed into envelopes. He denied wrongdoing. FIFA later banned the Qatari from the sport.
Before it's here, it's on the Bloomberg Terminal.
LEARN MORE