Durant's Sneaker Stats Approach LeBron's
By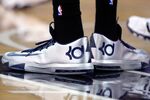 Kevin Durant is putting up some huge numbers … at the shoe store.
As he burnishes his stats on the court, the Oklahoma City forward is fast raising his retail game to rival that of LeBron James, his teammate on the roster of Nike athletes.
Last year U.S. sales of Nike's Durant line of sneakers rose fivefold, according to bar-code data collected by Princeton Retail Analysis, which tracks the sports apparel industry. If Durant posts a similar jump this year, his shoe sales will surpass those of James.
Kobe Bryant, also a Nike athlete, and Derrick Rose, whose sneaker deal is with Adidas, are a distant third and fourth. Here's a look at the sneaker scoreboard:

What's driving success? In a word, baskets. Nike signed Durant to a seven-year, $60 million deal in 2007, but the company was slow to bring its full marketing weight to bear for the rookie.
Starting in 2010, however—Durant's fourth year in the NBA—he led the league in points per game for three straight seasons. That was all the evidence Nike's product and marketing strategists needed to confirm that Durant was the real deal—a lock for "one-of-the-greatest" status.
Nike cranked out its sixth iteration of "KD" shoes last year and touted a range of special colors and combinations. There was the "Metallic Gold" model, the "Black History Month" collection, and the "Metereology" (because Durant wanted to be a weatherman as a kid).
It should be noted that Michael Jordan is still in a league of his own when it comes to sneaker sales. By Princeton Retail estimates, U.S. customers spent $2.3 billion on Jordan sneakers last year.
Don't expect Durant kicks to slow down, though. He's having the hottest season of his career and is a heavy favorite to snag the league MVP award. Thus far he has more points, rebounds, steals, and blocks than James.
Plus, Nike will release a sneaker in honor of Durant's deceased aunt later this month. Plastered in pink flowers and modeled after a bathrobe, the "Aunt Pearls" might not be a fixture on street-ball courts, but they are going to sell like crazy.
Before it's here, it's on the Bloomberg Terminal.
LEARN MORE