Can GoPro Take an IPO Plunge With Basically One Camera?
By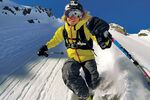 GoPro, the maker of hands-free video cameras that can be attached to helmets, sports equipment, pets, or any object in motion, revealed Friday that it's thinking about jumping into the stock market with an initial public offering.
In a brief statement, the company said it had filed confidential IPO paperwork with the Securities and Exchange Commission, a way to gauge investor interest without showing all its tricks to potential investors and competitors. The timing, on the eve of the Winter Olympics, sure seems auspicious. A lot of IPO investors—creaky-jointed folks who run college endowments and pension funds—probably don't spend much time on the action-sports blogs where GoPro footage is ubiquitous. But everyone watches the Olympics, at least a little bit, and over the next few weeks, high-definition footage of world-class athletes doing amazing feats will be practically inescapable. Olympic fever might just help it seem even more exiting to invest in the leading manufacturer of small cameras designed to be strapped to these athletes.
GoPro most definitely has growth. In 2012 it was poised to take in about $600 million, and the company estimated that it approached $1 billion in sales last year. The big question is whether that growth is sustainable given that the entire business essentially rests on a single product.
To command Wall Street capital, GoPro will have to convince investors it can keep drastically improving its bread-and-butter camera so existing fans will be likelier to buy newer models, and it will need to widen its ecosystem of ancillary gadgets: batteries, protective cases, attachments, etc. GoPro will probably also have to prove it can become a company that has some gravity, a way to lock customers into its products something like the way Apple did with iTunes.
At the moment, the major things keeping GoPro in business are a tide of marketing dollars and a lack of comparable cameras. A major rival in the point-of-view camera competition, Contour, suffered major setbacks last year. But smartphone videos sharpen by the day, and Sony has released a lauded point-of-view camera of its own.
GoPro has tried to make its customers a bit stickier with a free app and video-editing software, but the format is by no means proprietary. The New York Times pointed out recently that GoPro hopes to become an adrenaline-fueled media company, following the template established by Red Bull in expanding from energy drinks to action-packed videos and media events. Red Bull now has its own TV station and an endless family of events that make for good video, from air races and cliff-diving competitions to downhill ice skating.
That model wouldn't be a huge stretch for GoPro. It already has a long list of athletes on its sponsorship roster and a trove of "some of the best short-form content out there," as GoPro founder and Chief Executive Nick Woodman told the Times. Virgin America has added an extended segment of GoPro footage to some of its in-flight entertainment.
Of course, if it does gather more media clout, GoPro will face another challenge that many much bigger, more established tech companies are struggling with: selling ads.
Before it's here, it's on the Bloomberg Terminal.
LEARN MORE