Olympics Offer Profit Gains to Aeroflot as Flights Added
Elena Popina and Halia Pavliva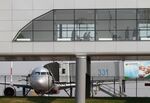 OAO Aeroflot and Yandex NV are among Russian companies that stand to benefit the most from the Winter Olympics in Sochi, according to Otkritie Financial Corp.
While Moody's Investors Service said yesterday the Olympics are unlikely to spur faster growth in Russia, the games will generate higher profits for Aeroflot, the country's biggest airline, and Yandex, the largest online search engine service, according to Otkritie. Aeroflot increased the number of regular Moscow-to-Sochi daily flights to 15 from five, according to data from its website.
Aeroflot has jumped 56 percent in Moscow since the end of August. The stock gained 1.9 percent by 10:53 a.m. today, snapping three days of declines. Yandex, which doubled last year, added 1.1 percent yesterday. The Bloomberg Russia-US Equity Index of the most-traded Russian stocks in the U.S. advanced 1 percent, while RTS stock-index futures gained 0.2 percent to 131,970 in U.S. hours.
"Their revenue will rise even though the games' impact on the economy overall won't be significant for now," Vladimir Tikhomirov, chief economist at Otkritie, said in a phone interview from Moscow yesterday. "There are so many people coming to the games. All of them will be using electricity, transport and other services, and all of them will be sending pictures over cell phones, calling family and friends abroad and surfing the Internet."
Biggest Investment
The government anticipates 3 million tourists will travel to watch the games in Sochi. The 2014 Winter Olympics, which cost about $50 billion, are the single biggest infrastructure investment since the Soviet Union collapsed in 1991. For President Vladimir Putin, that was part of a push to boost the economy of the whole North Caucasus region and an attempt to improve the way Russia is viewed around the world.
Sochi, which will host the Feb. 7-23 event, lies to the west of the Caucasus mountains, which stretch about 1,200 kilometers (746 miles) across Chechnya to Dagestan on the Caspian Sea, one of Russia's most economically distressed regions.
After a spate of bombings in southern cities killed more than 30 people in December, Putin, an avid skier, took to the slopes near Sochi to assure athletes, officials and spectators the Olympics will be safe. Putin sealed off Sochi in January and deployed 40,000 police and special service officers around the city, which has a population of 345,000.
Aeroflot said in December that it will freeze economy-class fares from Moscow to Sochi at 5,000 rubles ($143) for a round trip in a move to increase sales during the games.
Air Tickets
"What the company is really looking for is the long-term benefit from the games," Andrey Shenk, an analyst at research firm Investcafe LLC, said by phone from Moscow yesterday. "It's a matter of expanding its customer base worldwide. Thousands of foreigners will see what Aeroflot is and they'll buy its tickets in the future."
Yandex will see a boost in revenue from the Olympics due to more advertising during the games, according to Maksim Yurin, the social-media and marketing director at Moscow-based advertising agency Red Keds. The Hague-based company makes most of its revenue from online advertising.
"Everyone will be online during the Olympics," Yurin said by phone from Moscow yesterday. "People will be checking scores online, reading news online and inevitably clicking on ads, and that will have a positive effect on Yandex's revenue."
Yandex advanced to $36.67 in New York.
Rusal, Norilsk
The biggest companies involved in the most expensive Olympics ever have underperformed Russia's benchmark stock gauge. United Co. Rusal, the world's largest aluminum producer, slumped 33 percent in the past 12 months, while bridge and road builder OAO Mostotrest slid 35 percent and OAO GMK Norilsk Nickel fell 8.8 percent on concern they will lose money on their Olympics contracts. The Micex Index fell 5.5 percent in the period.
Most benefits from the construction "have already been felt," Moody's said in yesterday's note.
The Bloomberg-Russia U.S. gauge rose to 89.58, while the Market Vectors ETF advanced 1.3 percent to $25.37. The RTS Volatility Index, which measures expected swings in the index futures, slipped 2.7 percent to 22.38 today.
Before it's here, it's on the Bloomberg Terminal.
LEARN MORE