NYU Stern Students Know Their Wine Better Than Other MBAs Do
by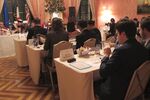 On a frigid evening in Manhattan early this week, three students of New York University's Stern School of Business celebrated with flights of cask beers at Birreria, the rooftop brewery at Italian-themed market Eataly. They weren't toasting job offers or good grades. They were gathered to mark a more rarefied feat.
Last month the trio won first place at a wine competition held at the French consulate in New York, besting representatives from eight U.S. schools and winning a place in an international competition to be held on the hallowed grounds of Château Lafite Rothschild in Bordeaux, France.
For the Stern team, the road to Bordeaux began last fall, when full-time MBA student Alex Reicherter hooked up with part-timers Adam Teeter and Michael Modisett. Shortly after the group formed, Dan Amatuzzi, a Stern alum and wine director at New York City market Eataly, reached out to offer his expertise.
The group hit the books to prepare for the question-and-answer part of the competition. (Sample question from 2013: "Which Medoc growth has a boat as an emblem?") For the most part, says Teeter, who co-founded VinePair, a startup aimed at making buying wine less stressful, the group didn't overthink it. "We like drinking wine, and we like talking about it," he says, explaining the team's laid-back approach to the contest.
For the Commanderie du Bontemps, the French wine appreciation society that created the Left Bank Bordeaux Cup, the competition is something of a baroque marketing campaign. Judges, some clad in the traditional robes of French winemaking guilds, quizzed students on the arcana of the country's Bordeaux region. Afterward the hosts plied "the world's future elite" with osso buco and fine wine.
Why not? There aren't many people who can afford the region's priciest vintages, and appealing to business and law school students seems like a smart way to prime the market.
At Birreria, the Stern team rehashed the highlights of the competition and started planning for the next stage. Mostly that meant shaking their heads at how serious some of their competitors had seemed, and working on finding a Stern alum willing to sponsor some practice tastings. At one point they floated an ad hoc media strategy, noting the reporter in their company. "Shouldn't we say something to intimidate our opponents?" asked Modisett. In the end they decided they'd prefer to be underestimated.
Before it's here, it's on the Bloomberg Terminal.
LEARN MORE