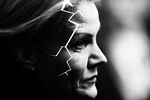 When Danish Prime Minister Helle Thorning-Schmidt supported the sale of shares in a state-owned company to Goldman Sachs, she couldn't have known how costly the deal would turn out to be. On Jan. 30, as a parliamentary committee gave final approval for the bank's purchase of 18 percent of Dong Energy, the nation's largest electric utility, for $1.5 billion, the Socialist People's Party quit the governing coalition in protest, leading six cabinet ministers to resign. While Thorning-Schmidt, a Social Democrat, retains her post with the support of the Social Liberal Party, polls show the dispute has dented her popularity, adding to the challenges she faces, including a weak economy, ahead of next year's national elections.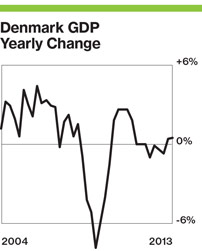 The role of Goldman in the deal struck a nerve with the Danish public, which is still suffering from the aftereffects of the global financial crisis. When protesters gathered in front of Parliament in Copenhagen on Jan. 29, a yellow banner with a drawing of a vampire squid—the description of Goldman used by Matt Taibbi in Rolling Stone in 2009—was draped around the base of a statue of King Frederick VII. "I'm very disappointed" that a left-wing government backed the sale, said one protester, Solveig Weiss, who identified himself as a retiree who votes for the Social Liberal party. "It's completely right-wing policies and certainly doesn't help that they're selling shares to a somewhat dodgy enterprise."
The deal dominated headlines in December when it emerged that Goldman would have some say over how Dong is run. Opposition increased in January after state broadcaster DR reported that Goldman planned to manage its investment through subsidiaries in Luxembourg, the Cayman Islands, and Delaware, which made Danes suspicious that the bank would shift earnings to tax havens. Poul Nyrup Rasmussen, a former Social Democrat prime minister, publicly urged Finance Minister Bjarne Corydon to scrap the deal, calling Goldman a "shady partner."
The bank has said it views the stake as a long-term holding and will support the strategy of current management, and that the political and popular backlash won't prompt it to reassess its bid. As for where it holds its shares, "Goldman Sachs complies, and will continue to comply, with all applicable tax laws in Denmark, Luxembourg, the United States, and other relevant jurisdictions," wrote Sophie Ramsay, a bank spokeswoman based in London, in an e-mail.
People are punishing Thorning-Schmidt for dealing with a bank they think represents "everything Danes really don't like about the crisis," says Peter Kurrild-Klitgaard, a professor of political science at the University of Copenhagen. They also don't like that the buyer "is not Danish or even European." Some of that may be an overreaction, he adds: "Most Danes don't know the details of this deal. Many think Denmark is selling all of Dong and not just 18 percent."
The share sale is part of a restructuring plan for Dong, announced a year ago, to cut costs, reduce debt, and bolster investments in wind farms and oil and gas exploration. Corydon fought off opposition to the deal from voters, unions, and lawmakers, who said Dong should be owned by Danish investors. He also rejected calls to inject state funds into Dong or to delay the Goldman deal until new offers could be examined. Postponing the vote would have harmed Dong's credit ratings and its ability to negotiate with its banks and investment partners, he said.
Goldman will hold the Dong shares in its European merchant banking unit. Denmark's two largest pension funds, ATP and PFA, are buying stakes in Dong of 4.9 percent and 1.8 percent, respectively. "It's good that Dong Energy now has firm ground under its feet," Corydon said in a statement after the deal was approved. "Parliament has today made sure that one of our biggest companies now can make substantial investments rather than scaling back."
Denmark became Scandinavia's weakest economy after a housing bubble burst in 2008, triggering a crisis at community banks, which had lent heavily to property developers. The central bank says consumer indebtedness is hurting household demand. Danish gross domestic product will expand 1.6 percent this year, vs. 2.3 percent in Sweden and 2.8 percent in Norway, the Organisation for Economic Co-operation and Development estimated in November.
The Social Democrats started sliding in opinion polls soon after Thorning-Schmidt became the first woman to head a Danish government, in 2011. Faced with a recession and widening deficits, she introduced policies that conflicted with the party's traditional social welfare values. The government has raised the pension age, cut corporate taxes, and lowered benefits for the unemployed and students. "The government already has low support in polls, and this case won't help in any way," says Jens Hoff, another professor of political science at the University of Copenhagen. "Core voters are running away because Social Democrats and Socialists consider the whole thing a very bad idea."
Before it's here, it's on the Bloomberg Terminal.
LEARN MORE