Flaherty Memos Reveal Canada Bid to Create Yuan Hub
Ari Altstedter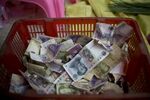 Canada is stepping up efforts to become North America's first yuan trading hub as China opens up its capital markets in a once-in-a-generation economic overhaul.
Finance Minister Jim Flaherty received a personal briefing on the matter last year from government officials ahead of a meeting with executives at HSBC Holdings Plc, according to documents obtained by Bloomberg under Canada's Access to Information Act. London-based HSBC got its start in the 1800s as Hongkong & Shanghai Bank to finance and promote British imperial trade in opium, silk, and tea in East Asia.
"Canada's strengthening commercial relationship with China provides an excellent opening for Canadian financial institutions to explore opportunities in Chinese yuan," Jack Aubry, a Canada finance department spokesman, said in a Jan. 28 e-mail. "The Government of Canada supports private-sector-led initiatives towards this objective."
Cities around the world are racing to establish trading centers for the yuan, which surpassed the euro last year to become the most widely used currency in trade finance after the dollar. China has already signed agreements to trade its currency more freely with Singapore, London and Frankfurt as part of an economic restructuring which includes taking steps to loosen exchange controls.
Turnover Jumps
A memo to Flaherty from his deputy Michael Horgan, dated June 26, 2013, with the subject line "Meeting with HSBC Canada" lists "Renminbi Trading Hub" as a topic for discussion. The entire section is redacted, with the exception of a line that says "The Toronto Financial Services Alliance is engaged on the renminbi trading hub issue."
HSBC Canada Chief Executive Officer Paulo Maia was among the executives due to meet with Flaherty, according to the documents. Sharon Wilks, a spokeswoman for HSBC, and Marie Prentice, a spokeswoman for Flaherty, declined to comment on whether the meeting took place.
Turnover in the Chinese currency jumped to $120 billion a day as of April 2013, from $34 billion a day in April 2010, as it became the ninth most-actively traded currency with a 2.2 percent share of global volumes, the Bank for International Settlements said in its latest triennial survey of currency traders released in September.
China became the world's biggest goods-trading nation in 2013 after annual trade surpassed $4 trillion on Dec. 19, China's government said last month.
Flaherty Briefings
Another memo to Flaherty from Horgan, dated March 18, 2013, is titled "Next Steps on Renminbi Trading in Canada." The memo's purpose is to update Flaherty on "developments in renminbi trading opportunities for Canada that have taken place since we first briefed you on this topic in September." It outlines China's recent push to internationalize its currency and describes the efforts of Taipei, Singapore and London to acquire trading-hub status. Parts of the document are redacted.
The Toronto Financial Services Alliance is a public-private partnership that includes representatives from three levels of government -- federal, provincial and municipal -- as well as financial-services companies such as TD Securities Inc. and Sun Life Financial, schools and industry associations, according to its website. HSBC Global Asset Management Canada Ltd. is also listed among the members.
'Well Placed'
HSBC is "well placed" to help customers take advantage of the opportunities created by the "growing use of China's currency worldwide," spokeswoman Wilks said in an e-mailed response to questions about the bank's role in establishing a yuan trading hub in Canada. "When requested to do so, we are happy to share our knowledge," she said.
The yuan has so far shrugged off the domestic credit bubble that Moody's Investors Service warned could spark a financial crisis, as well as this year's slump in the developing world.
It's the third best performer in 2014 among 24 emerging-market currencies after Indonesia's rupiah and the Hong Kong dollar. The yuan dropped 0.2 percent versus the greenback this year to 6.0634 per dollar as of 12:21 p.m. in New York, after reaching a 20-year high of 6.0406 per U.S. dollar on Jan. 14.
A race for a piece of the yuan trading business in Europe began when the Bank of England signed a currency-swap agreement with the People's Bank of China last summer. HSBC's London rival, Standard Chartered Plc, won the right to settle yuan transactions in the U.K. by partnering with a Chinese bank. The Frankfurt-based European Central Bank signed a swap agreement with the PBOC in October. The Swiss National Bank has said it's in negotiations for one.
Swap Agreement
A swap agreement gives a country's central bank access to yuan it can lend as a backstop for a commercial bank to settle transactions if it depletes its own reserves. There's no mention of a swap agreement in the finance department documents.
Bank of Canada spokeswoman Dale Alexander declined to comment on whether the bank is negotiating swap agreements with the PBOC.
As the two largest traders of renminbi in global markets, Standard Chartered and HSBC are among the few international banks able to settle yuan transactions in Canada without a backstop from the central bank, Nicholas Lardy, senior fellow at the Peterson Institute for International Economics in Washington, said in a phone interview Feb. 5.
Clearing Bank
"Maybe HSBC thinks they have a chance to be the clearing bank" in Canada, he said. "I don't think you necessarily need to have a swap agreement between central banks, but there's never been a place I can think of that's had a big amount of trading before a clearing bank has been established."
The Toronto Financial Services Alliance is working with Canada's financial industry to explore the feasibility of establishing a yuan trading hub in Canada and what form that would take, Janet Ecker, the organization's president, said in a Jan. 31 phone interview.
"There needs to be a consensus among the stakeholders of what makes sense for Toronto -- what does a trading hub mean for Toronto," she said. "That's the work that's happening right now."
There are differing views on whether a currency swap agreement is necessary to have a trading hub, she said.
"With increasing liberalization of China's currency, the renminbi, a number of market participants would like to see Canada become an official trading hub" according to a Canadian government document dated Jan. 31, 2013, from Beijing. The document, most of which is redacted, lists Tim Cleland's name and e-mail at the bottom. Cleland appears in the Government of Canada employee directory as a senior project leader in Ottawa at Finance Canada.
'Heavily Used'
Other documents show Flaherty was briefed about the prospects of Canada becoming a yuan trading hub before meetings in March last year with Norman Chan, the chief executive of the Hong Kong Monetary Authority, and John Tsang, Hong Kong's financial secretary, as well as a May 20 meeting with the Guangdong provincial government.
The Chinese currency will probably become "far more heavily used" in the next 10 to 15 years, Wendy Dobson, a professor of international business at the University of Toronto, said in a Feb. 5 phone interview. "Canada is invisible in Asia and when you think about how we could be more Asian, one of the things that we do well is we have a very strong, well-regulated financial sector."
Before it's here, it's on the Bloomberg Terminal.
LEARN MORE