Questions Remain After SAC Capital's Mathew Martoma Is Found Guilty
By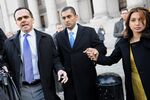 At 1:51 p.m. today, 12 jurors filed into a courtroom in lower Manhattan to deliver the latest SAC Capital-related insider trading verdict, and, in what has become something of a déjà-vu, the defendant was found guilty on all counts. It was a somber moment, complete with two shocked sets of parents, a crying wife, and three young children waiting offsite with a babysitter—reminders of the human carnage that accompanies most criminal cases.
But after four weeks of trial, the testimony of two Alzheimer's doctors and that of drug company executives, traders, compliance officers and academics, two days of jury deliberations, and now a unanimous verdict, a huge unanswered question lingers: Why didn't Mathew Martoma flip?
Martoma was charged in November 2012 with insider trading in two drug stocks, Elan and Wyeth, in what the government described as the largest insider trading case in history, with $275 million in profits and avoided losses. Some of the trades at the heart of the case involved Martoma's former boss, SAC founder Steven Cohen, who, the government alleged, sold off SAC's position after a 20-minute phone conversation with Martoma that took place on July 20, 2008. No one knows what took place during that phone call, and it's possible that no one ever will. Cohen himself has not been charged criminally. SAC Capital pled guilty to securities fraud in November. The U.S. Securities and Exchange Commission filed a civil charge against Cohen for failing to supervise his employees that has yet to be resolved.
Government investigators never expected the Martoma case to go to trial. The evidence against him was believed to be so strong, and the potential punishment so steep—up to 20 years in prison—that most observers believed Martoma, father of three young children, would do the rational thing and agree to cooperate in exchange for a reduced sentence. For whatever reason, he didn't.
For Cohen, long known to be the true target of the government's investigation, the verdict comes as both a further blow and a relief. Prosecutors managed to shut down his hedge fund, but he has so far avoided time behind bars. It's Martoma who now awaits sentencing, while Cohen contemplates his future as the head of a multibillion dollar family office and a buyer of high priced art.
Throughout the trial, Martoma sat in the courtroom bearing a dark, if inscrutable, expression while his wife Rosemary sat behind him in the first row, often smiling inexplicably. Martoma's defense lawyer, Richard Strassberg of Goodwin Proctor, said: "We're very disappointed and we plan to appeal."
Before it's here, it's on the Bloomberg Terminal.
LEARN MORE