Everything B-Schools Don't Teach You About the Virtual Job Interview
Paul J. Bailo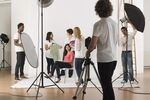 I remember walking into the senior vice president's office at Shearson Lehman Brothers in New York City, résumé in hand, armed with a freshly minted MBA from Wagner College (Class of '90), and wearing a suit my parents bought me as a graduation gift. I sat down, we spoke, and 60 minutes later I was offered a position as equity researcher on the institutional side of the house.
Fast-forward 24 years. It takes more than a chat and a firm handshake to win a coveted Wall Street job, or any position, for that matter. What's more, technology has altered the world of job interviewing. You stand a good chance of being interviewed via video conference, which robs you of the chance to make a great impression in person.
In addition to having the right academic and professional experience, you have to perform like a star on your digital interview to stand out.
Here are the things they never taught you (or me) at B-School about how to set yourself apart in a virtual interview. The shopping list below will allow you to create a near-professional home video studio.
Digital Handshake. It may sound silly, but there's a correct way to greet potential employers via video. Nod your head, bend your shoulders slightly, and look forward. It should be a slow, confident, professional, firm nod, but don't go too far—the other person shouldn't see the top of your head. In the digital world, this is how you shake hands.
Camera. The most important part of the digital job interview is the camera. A cheap camera can make you appear unprofessional and won't show you in the best light. Get any name-brand HD webcam, and you'll be fine. Keep the camera at eye level, even if that means propping it on a stack of books. Staring down at the camera looks sloppy, and it's your least flattering angle.
Audio. "Can you hear me now? How about now?" This is exactly what you don't want to have happen during your interview. You should sound as great as you look. Blue Microphones makes an outstanding product, called the Snowball, specifically designed for interviewing. Whatever mic you end up using, be sure to test it well in advance of the interview to avoid any surprises.
Light. Lighting, as any filmmaker will tell you, is crucial for setting the right atmosphere. Soft natural lighting creates a warm and inviting environment. You'll need three lights—two on your right and one to your left at a 45-degree angle. Use one of the lights on your right to illuminate your background.
Digital Interview Shopping List
Camera Price
Logitech HD Pro Webcam C920
$75.00
Microphone
Blue Microphones Snowball Plug-and-Play USB Microphone Bundle (Ringer Universal Shock mount and Pop Filter)
$160.00
Background
Savage Seamless Background Paper, 53″ wide x 12 yards
$35.00
Gaffer's Tape
$15.00
Lighting
LimoStudio-Photography Photo Portrait Studio
600W Day Light Umbrella Continuous Lighting Kit
 $40.00
On Air Sign
ADV PRO i480-r On Air Recording Studio NEW NR Neon Light Sign
$30.00
Total
$355.00
Perfecting the virtual interview can set you back a bit, but if you're on a budget, forgo the background, lighting, and "On Air" sign. Go with plain poster board ($5) and three HDX 150-watt Incandescent Clamp Lights ($8 each). You can switch out the recording sign for a strongly worded note (preferably in heavy marker) that tells everyone to keep quiet and stay out of your room. That should save you nearly $100. Good luck.
Before it's here, it's on the Bloomberg Terminal.
LEARN MORE