England Plastic Bag Charge 'Too Complex,' Lawmakers Say
Alex Morales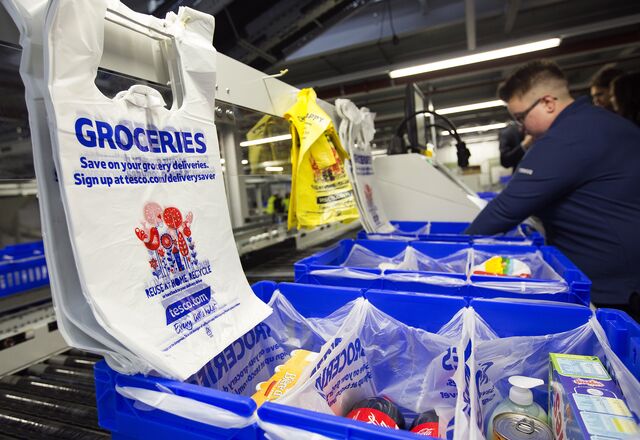 The U.K. government's proposed charge on plastic bags given out by retailers in England is too complex, a panel of lawmakers scrutinizing the plan said.
Exemptions for small retailers, biodegradable bags and paper ones make the planned 5 pence (8 cents) charge "unnecessarily confusing" for shoppers and less effective than a similar program in Wales, the Environmental Audit Committee including members of Parliament from the three main parties said today in a report.
"Ministers have managed to make a complete mess of their planned carrier bags charge by making it unnecessarily complicated," Committee Chairwoman Joan Walley said in a statement. "Before the Government reaches the check-out with this policy, it needs to drop the exemptions and keep it simple to help shoppers do the right thing."
The government is trying to reduce the 8 billion plastic bags used each year in England by imposing a charge on the receptacles. A 5-pence charge on all bags used in Wales has led to a reduction in their use there of more than 75 percent. The government estimates the charge in England will raise about 70 million pounds, which it proposes to give to charities.
"We need to make sure that the regulations work in a way that is effective," Conservative leader of the House of Commons, Andrew Lansley, responsible for overseeing the government's legislative agenda, told lawmakers today in Parliament. "We are in the process of ensuring we get the regulations right. It is a good thing to do and it will make a difference."
The committee said that exempting paper bags from the charge would weaken the message to reuse them. Biodegradable bags could contaminate the waste stream, making it harder for recyclers to separate out different material, it said.
The lawmakers also said that trade bodies including the National Federation of Retail Newsagents, the Association of Convenience Stores and the British Retail Consortium had all criticized the exemption for small retailers, saying their members would like to take part in the program.
Before it's here, it's on the Bloomberg Terminal.
LEARN MORE