Big Coal's Ash Mess Follows Its Chemical Spill. Is This Some Kind of Bad Joke?
Paul M. Barrett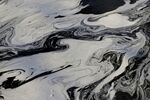 One tries to maintain a pragmatic attitude about fossil fuels. The U.S. gets roughly 40 percent of its electricity from burning coal, although that percentage is dropping. Unless we're prepared to turn off a lot of lights and shut down a lot of factories real fast, we will have to continue to back away from coal gradually. And yes, that implies using more natural gas, which no matter what the anti-fracking forces say is a whole lot cleaner than coal and much less of a contributor to global warming.
Still, the coal mining, processing, and power industries have a way of making the most unrealistic greenies seem reasonable. Two current examples:
Elk River (West Virginia): Weeks after public-health authorities declared the water in and around Charleston safe to drink again—despite a Jan. 9 spill of 10,000 gallons of coal-processing chemicals—physicians in the area are advising some patients not to drink from the tap. Freedom Industries, the company that admitted to spewing the chemicals from a decrepit tank farm just a mile and a half upstream from the regional water treatment plant, doesn't know what effect the compound has on humans. Freedom has retreated into bankruptcy court as a way to freeze liability lawsuits seeking to hold it responsible. The company has denied wrongdoing.
Eastman Chemical, the manufacturer of the compound, known as MCHM, similarly doesn't know what effect its product has on humans, although lab rats don't react happily when exposed. Under porous state and federal environmental regulations, government agencies have never been required to test MCHM. You read that correctly, and the same is true for thousands of other dangerous chemicals used in commerce. The owner of Freedom Industries, J. Clifford Forrest, who controls the company via an evocatively named entity called Chemstream, hasn't said a word in public since the Charleston spill. Forrest is a well-known industry figure, as he founded and runs Rosebud Mining, a coal company based outside Pittsburgh.
Does anyone involved here see why the coal business and its affiliates have such a bad reputation? When will someone step up and make things right in West Virginia?
Dan River (North Carolina): While confusion reigns in the Mountain State, Duke Energy, the nation's largest power utility, said it discovered its own mini-disaster on Sunday. As much as 82,000 tons of coal ash and 27 million gallons of contaminated water were inadvertently released into the Dan River from an enormous pond at Duke's "retired" electricity plant in the ironically named town of Eden, N.C. (Seriously, who comes up with these names?) The Associated Press reports that Duke does not have the situation under control:
"Officials at Duke … say they do not know when the leak will be contained, though the flow has decreased significantly as the pond has emptied. Environmental regulators are awaiting test results to determine if there is any hazard to people or wildlife. Coal ash is known to contain toxic chemicals, including lead, arsenic, mercury and radioactive uranium. Twenty miles downstream from the spill site and across the state line in Danville, Va., officials said they were successfully filtering out contaminants in the drinking water. Officials in Virginia Beach stopped drawing water from Lake Gaston, a major reservoir fed by the Dan."
Was the coal ash release a surprise? Not, according to the AP, to anyone who's been paying any attention:
"Environmentalists and regulators have been warning for years that the 31 ash ponds at Duke's power plants in North Carolina had the potential for calamity. At the Dan River plant, the waste pond was expanded more than 40 years ago over an older storm water drainage pipe. That pipe, which empties into the river, collapsed last weekend, draining the pond above."
In recent years, the mining and power industries have talked a lot about innovative ways of burning "clean coal." The kind of conduct we've witnessed in West Virginia and North Carolina makes that seem like a joke in very poor taste, especially for residents who want to drink the water in those states.
Before it's here, it's on the Bloomberg Terminal.
LEARN MORE