A Small Business Hopes to Spot Its Olympic Bracelets at Sochi
by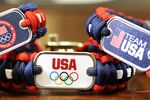 When Kurt Walchle told people that he wanted to see the athletes on the U.S. Olympic team wearing his company's bracelets, a lot of people thought the Jacksonville (Fla.) entrepreneur was crazy. After all, everybody knew that only big companies supplied Team USA—not a small business like his, with 66 employees and $5 million in annual revenue.
But Walchle and his wife, Melissa, had shrugged off plenty of doubters when they quit the real estate business to start Survival Straps, weaving sturdy bracelets from paracord—a material made for parachute ropes—at their kitchen table and selling them on EBay. That was 2007. A couple of years later, their decision to get out of the Florida real estate market looked pretty smart.
Walchle is proving skeptics wrong again: Last year he struck a deal with the U.S. Olympic Committee to provide its 800 American athletes with Team USA-emblazoned, red-white-and-blue bracelets and luggage tags. He'll be glued to television coverage for the next two weeks, hoping to spot American competitors wearing his products at the games in Sochi, which open on Friday.
The marketing oomph of the Olympics isn't reserved for big companies like Ralph Lauren or Nike, where the iconic interlocking rings and American flags adorn everything from T-shirts and caps to umbrellas, lanyards, pint glasses, and toy gnomes. One nice plus for Walchle: His bracelets are featured on the Team USA shop's front page.
Survival Straps gear retails for between $12.50 and $50. The Walchles originally started making watchbands and bracelets for themselves and their friends out of paracord, the extremely strong, lightweight, and durable rope that the U.S. military uses to rig parachutes. They wore them when they were out hiking or hunting because they could be unraveled to provide up to 26 feet of cord for use in climbing, pitching tents, or tying gear to the roof of a car. "Paracord is like duct tape for the outdoors," Kurt Walchle says. "You can use it for anything."
Sales poked along for a couple of years, with the couple weaving bracelets at their kitchen table. Then Walchle persuaded the North Carolina manufacturer that supplies paracord to the military to take a chance on his company and branch out into producing half a dozen colors beyond traditional black and olive drab. That opened new possibilities for branded collections, including bracelets aimed at police, firefighters, and medics; gear woven in college colors; and partnerships with companies like Harley-Davidson.
By 2010, Survival Straps had a 2,000-square-foot warehouse and a handful of employees. Today the company has a 13,000-square-foot facility that can turn out 300,000 items a year, all still made on the premises by hand. The products are sold online as well as in outdoor shops and college bookstores around the country. Walchle says he's proud that he employs American workers and that he has worked since the beginning with the Wounded Warrior Project and other veterans' support organizations, donating more than $1 million to their causes since his company was founded.
Another point of pride was less expected: Stories that customers began posting on the company's social media sites told how they had unraveled their bracelets, watchbands, or key chains and used the paracord in emergencies big and small. "They use our gear for lifesaving and for goofy stuff, like the guy who said he bought a grill at Home Depot that wouldn't fit in the back of his minivan. When the twine they gave him to tie it on top didn't work, he unraveled his survival bracelet and secured it to the roof and got it home safely," Walchle says. "There are all kinds of creative things people do when they realize they have rope right there on their wrists."
Before it's here, it's on the Bloomberg Terminal.
LEARN MORE