Smith & Nephew Risks Counterbids for ArthroCare: Real M&A
Brooke Sutherland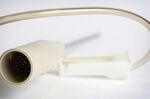 Smith & Nephew Plc's bid for ArthroCare Corp., at the lowest premium for a medical-instruments company since the 1990s, is giving Stryker Corp. or Johnson & Johnson a shot at a rival offer.
ArthroCare, which makes products used in sports medicine for minimally invasive surgery, closed yesterday 99 cents above the $48.25-a-share bid from Smith & Nephew as some investors bet on higher proposals. Stryker, which acquired technology for robot-assisted surgery last year, and J&J, the world's biggest maker of health-care products, are the most likely candidates to counter the $1.7 billion offer, said William Blair & Co.
The deal came together after an agreement with the U.S. Department of Justice last month boosted the stock and prompted takeover speculation. The gains mean that Smith & Nephew is offering only 5.6 percent more than ArthroCare's average price in the prior 20 days, according to data compiled by Bloomberg. JMP Group Inc. estimated the company could get about $55 a share in a sale because of its high-margin assets in sports medicine and the chance to expand international sales.
"There are a lot of reasons why a bigger company would want this," David Turkaly, a New York-based analyst at JMP, said in a phone interview. "Could somebody pay more than $1.7 billion for ArthroCare? I think the answer could be yes."
Traders' Hopes
Charles Reynolds, a spokesman for London-based Smith & Nephew, declined to comment on whether the company would be willing to raise its bid. Misty Romines of Austin, Texas-based ArthroCare didn't respond to an e-mail or phone message regarding the possibility of higher offers.
Purchasing ArthroCare will give Smith & Nephew technology used in tonsil removal, as well as in arthroscopic surgery on shoulders and knees.
While the U.K.'s biggest medical device maker is offering ArthroCare a price the stock hadn't reached since January 2008, "traders may have reason to hope for an overbid," Don Bilson, head of event-driven research at Gordon Haskett Capital Corp., wrote in a report distributed yesterday.
The 5.6 percent premium to ArthroCare's 20-day stock price average of $45.70 is the lowest for a medical-instrument takeover of more than $500 million since the '90s, according to data compiled by Bloomberg. Smith & Nephew touted in its press release that it's paying a 20 percent premium to the stock's 90-day volume weighted average price.
DOJ Investigation
The bid came after ArthroCare shares soared 15 percent in one day after it disclosed on Jan. 7 an agreement with the Justice Department to end a five-year investigation into allegations of securities fraud under previous management.
"Investors may worry the bid is insufficient," Savvas Neophytou, a London-based analyst at Panmure Gordon & Co., wrote in a Feb. 3 report. It may still draw out "another bid, which would be problematic."
ArthroCare shares closed yesterday at $49.24, after touching $49.61 earlier in the day. Today, the stock rose 0.5 percent to $49.50.
Suitors such as J&J and Stryker may be willing to pay up for ArthroCare to get a hold of its sports-medicine assets, according to William Plovanic, an analyst at Canaccord Genuity Group Inc. He estimates that ArthroCare controls a large share of the sports-medicine market for coblation, an alternative to traditional surgery which uses high-frequency energy and natural saline to dissolve target tissue and preserve healthy tissue.
'Pretty Powerful'
"These are pretty powerful market positions," Plovanic said in a phone interview. "To have that sort of representation is very beneficial for any potential acquirer."
Stryker, which already has a presence in sports medicine, could pay about $87 a share and still have a deal add to earnings, Plovanic wrote in a report the day that ArthroCare resolved the Justice Department investigation. At the time, he estimated that Smith & Nephew could pay as much as $52 a share.
A representative for Stryker didn't immediately have a comment when asked if the company would be interested in bidding for ArthroCare. Stryker said last month that mergers and acquisitions are the top priority for its $4 billion in cash.
A representatives for J&J, which has more than $25 billion of cash and equivalents, declined to comment on whether the company would be interested in bidding for ArthroCare.
Zimmer Holdings Inc., a $16 billion maker of orthopedic and dental reconstruction implants, also could be interested, said Plovanic and JMP's Turkaly. In addition to gaining high-margin assets, acquirers with a more global presence may see an opportunity to expand ArthroCare's international sales, which make up about a third of its annual revenue, Turkaly said.
Sale Process
A representative for Zimmer declined to comment.
The turnaround of less than a month between ArthroCare's settlement with the Justice Department and the disclosure of the deal with Smith & Nephew may signal that there wasn't a full sale process, Matthew O'Brien, an analyst at William Blair, wrote in a Feb. 3 report.
Smith & Nephew already secured support for the deal from ArthroCare's largest shareholder, One Equity Partners LLC, which owns convertible preferred shares equal to about 17 percent of the company's equity.
There are risks to betting on a higher offer as fewer deals recently have led to bidding wars, said Keith Moore, an event-driven strategist at Stamford, Connecticut-based MKM Partners LLC.
In the case of ArthroCare, the company has "a technology that I think is very valuable," Moore said in a phone interview. "There aren't very many people that have something similar. Whenever you have a case where there aren't really any other people doing the same thing, it pays to" wager on the possibility of a price bump.
Before it's here, it's on the Bloomberg Terminal.
LEARN MORE