Ralph Lauren Wins With (Ugly?) Olympic Clothes
By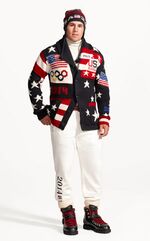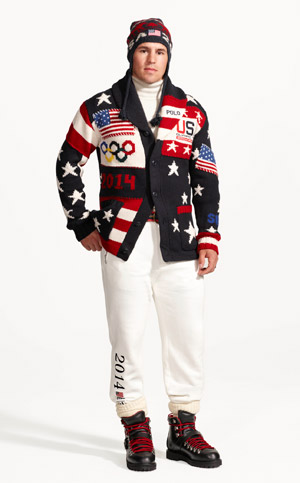 Turns out, not all of Ralph Lauren's Olympic garb looks like a knitting grandmother got aggressive with the American flag. In addition to its much-maligned sweaters, the design house has created a full line of less garish garments. The men's jacket ($795) updates the brand's peacoat with a bold red stripe; the women's "ceremony sweater" ($395) riffs on the company's popular Fair Isle sweaters; and there's a warm winter hat for anyone willing to drop almost $100 on a pair of knit reindeer.
Despite the relatively steep prices—and the dearth of Sochi-bound fans—the merchandise is selling well. For starters, the garments are in line with other RL prices. And, as has been the case with previous Olympics collections, a bunch of the items have sold out on the Ralph Lauren Web store.
"In the coming weeks, our brands will enjoy extraordinary global visibility," Chief Operating Officer Jackwyn Nemerov said on a conference call with analysts this morning.
Ralph Lauren has invested in an Olympic marketing effort before, sponsoring the U.S. team in Beijing in 2008, Vancouver in 2010, and London in 2012. But this year the strategy seems particularly sound, when a glut of inventory and relatively cautious consumers have made for threadbare apparel results of late. The companies that managed to increase sales over the holidays typically did so at the expense of margins.
Two antidotes to intense discounts can be moving up-market or making a publicity push that convinces consumers that its wares can't be found at competing retailers. For Ralph Lauren, the Olympics delivers on both of those fronts of exclusivity.
"In difficult times, people go back and trust brands that have quality and heritage, and you feel safe making the purchase," Marie Driscoll, founder of retail consultancy Driscoll Advisors, told Bloomberg. "They are great brand strategists."
In the recent quarter, Ralph Lauren increased profit almost 10 percent and sales 9 percent, in part by selling more four-figure handbags and other luxury goods. Because of its Olympic bid, Ralph Lauren said sales in the year through March will come in at the high end of its estimated range.
The design house scored a similar strategic coup in a sponsorship of the PBS Masterpiece series Downton Abbey. Ralph Lauren has been touting its "Downton style" in ads and on catwalks since early 2012. Thus far, the influence has been manifest in a lot of tweeds and intricate hats, but season four just got underway last month. We might yet see Lady Mary in an American flag sweater.