James Bond's Sports Car Has Chinese Supply-Chain Problems
Christina Larson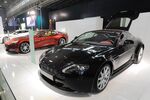 Aston Martin, the luxury sports car manufacturer often associated with James Bond, has the same problem as Mattel's Hot Wheels: glitches in the Chinese supply chain.
The legendary sports car company is recalling more than 5,000 cars manufactured since 2007. According to a Jan. 15 letter (pdf) from Aston Martin to the U.S. National Highway Traffic Safety Administration, the company investigated after reports of throttle pedal arms breaking during installation. Its discovery: "Initial tests on the failed pedal arm have shown that the Tier Three Supplier used counterfeit material."
The luxury sports cars' throttle pedals are assembled in Swindon, England, by a company known as Precision Varionic International, which in turn gets its parts from Fast Forward Tooling in Hong Kong. In this case, Fast Forward Tooling subcontracted the molding of pedal arms to Shenzhen Kexiang Mould Tool Co., which bought its allegedly "counterfeit material" from Synthetic Plastic Raw Material Co. in the Chinese factory town of Dongguan. And apparently, James Bond's gadget man Q was not on hand to inspect quality.
Aston Martin's "engineering specification require pedal arms" to be made from a specific plastic supplied by DuPont. Some cunning folks at Synthetic Plastic Raw Material had in fact been allegedly shipping out materials "in bags labeled as DuPont PA6," but those bags actually contained an inferior imitation plastic.
Aston Martin is hardly alone in recalling a product due to quality-control failures in the supply chain. In 2007, Mattel, the maker of Hot Wheels cars, Barbie dolls, and several licensed Sesame Street toys, recalled almost 1 million toys after discovering that its Chinese suppliers had used hazardous lead paint. The Chicago-based toy company RC2 also recalled 1.5 million Thomas the Tank toys in 2007 after discovering its Chinese suppliers used lead paint.
It's not only foreign companies worried about manufacturing quality control and safety. After milk formula tainted with the toxic chemical melamine killed six infants and made more than 300,000 sick in 2008, parents in China have largely shunned domestically produced baby formula, creating a large market for illegally imported formula. When something is really important, why take risks on a manufacturing process that has lethally failed in the past?
Apparently that's the conclusion Aston Martin is drawing, too. As its letter to the U.S. government stated, "Aston Martin is also planning to re-source the manufacture of pedal arms from China to the United Kingdom as soon as possible in 2014."
Before it's here, it's on the Bloomberg Terminal.
LEARN MORE