VW Plant's Union Vote Could Be a Southern Labor Breakthrough
By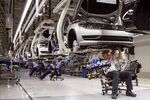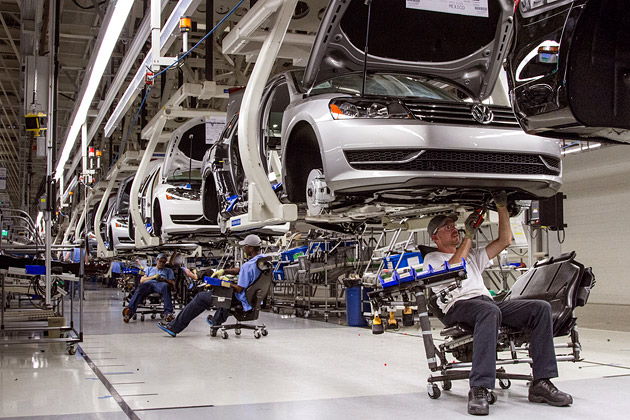 Workers at a Volkswagen AG auto plant in Tennessee will vote next week on union representation in an exercise being watched as a potential bellwether for labor organization efforts at other foreign-owned automakers in the South.
The secret ballot, being held with the company's cooperation from Feb. 12-14 at the Chattanooga sedan plant, would establish representation by the United Auto Workers and create a works council similar those used at every other VW plant, except for those in China. Works councils, common across German industry, are employee-elected bodies that help management resolve labor disputes and guide company decisions. "Some things under the traditional jurisdiction of the union would be overseen by the works council," said Gary Casteel, the UAW's regional president. "And until the workers actually sit down and negotiate that configuration, it's hard to say what that would look like."
The vote comes after several months of negotiations between the union and Volkswagen officials in which the German company hasn't moved to oppose labor organizers. Frank Fischer, chairman and chief executive officer of Volkswagen Chatttanooga, said in a statement that the company is "committed to neutrality and calls upon all third parties to honor the principle of neutrality." VW considers labor-management cooperation a competitive advantage, and the company has said it concluded that the creation of a works council in the U.S. would require union representation at the plant.
That decision has opened up a rift between the company and some local elected officials, who are concerned that labor organizers will seek to expand to additional Tennessee auto plants. A works council at VW's Chattanooga facility, which would also cover some salaried employees, would be the first such labor-management group in the U.S., according to the UAW, and would mark a rare breakthrough for labor organizers at a foreign auto factory in the South.
Critics of the collective bargaining action have predicted that a UAW victory at the Passat factory, which employs about 2,500 workers, could lead to similar efforts at facilities operated by Nissan, Toyota, BMW, and Mercedes Benz, making the region less attractive to industry expansion. Tennessee Governor Bill Haslam and Senator Bob Corker (R-Tenn.), a former Chattanooga mayor, have opposed the UAW's presence at the plant and have described the union as detrimental to economic development.
Corker said in an e-mail on Monday that it would not be appropriate for him to comment before the vote. Haslam was preparing his annual state of the state address Monday and had no immediate comment on the vote, a spokesman said.
Before it's here, it's on the Bloomberg Terminal.
LEARN MORE