UNC Academic Fraud Scandal Sparks Racial Recriminations
Paul M. Barrett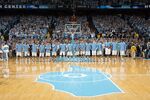 The University of North Carolina academic fraud scandal has entered its Tom Wolfe phase, revealing a racial subtext of the uniquely ironic and bitter American variety.
To review: The prestigious Chapel Hill campus of UNC has become the battlefield of the moment in the continuing unrest within NCAA Inc.—the multibillion-dollar business that is college sports. Carolina officials have admitted that beginning in the mid-1990s, the school's African, African American and Diaspora Studies Department hosted hundreds of phony classes to generate fake grades that kept Tar Heel basketball and football players eligible to play. After years of trying to minimize the sports-eligibility motivation behind the corruption of the black studies program, UNC in recent weeks has yielded to heightening outside pressure and conceded that it had failed to acknowledge the depth of this fiasco.
Despite this public retreat, the university's administration has persisted in demonizing a campus tutor named Mary Willingham, who played a critical role in disclosing the scandal. UNC has also insinuated that media coverage of its troubles has been unfair. Now Black professors and staff members at University of North Carolina, Chapel Hill are acting as a group to defend UNC and lash out at critics
In a statement dated Feb. 1, the Carolina Black Caucus,  a campus group, declared: "We stand united for black Americans, both enslaved and free, who built this university and who were also barred from its doors." The caucus added that it stands united for "black athletes who face stereotype, threat, and are targets of ridicule"; "the Department of African, African American and Diaspora Studies, which has been unfairly attacked, overly investigated, and whose legitimacy has been repeatedly questioned"; [and] "courageous administrators, faculty, staff, and students who press on despite impatience, media inaccuracies, gossip, and public attacks on our institution."
Whoa. The Carolina Black Caucus has this situation precisely upside-down. That UNC's black studies department was cynically exploited is now beyond dispute. The corruption cannot be wished away. No right-thinking person has questioned the legitimacy of researching and teaching the history of Africans or African Americans. Since the former black studies department chairman was forced to retire in 2012 (late last year he was also criminally indicted for fraud), the program has begun a rebuilding process. But that doesn't erase that for many years, black athletes and other students were encouraged to take pretend classes that did nothing for their intellectual development or career prospects.
The sordid affair hasn't been "overly investigated." To the contrary, UNC has resisted getting to the bottom of it—especially the degree of culpability of the Tar Heels Athletic Department. Appointed last summer, Chancellor Carol Folt belatedly has admitted that UNC still hasn't gotten its arms around a scandal that forced her predecessor to step down in humiliation. This is not a made-up controversy based on "media inaccuracies" or "gossip."
Thankfully, Phillip Jackson, executive director of a Chicago education reform group called the Black Star Project, has stepped up to set matters straight. In a Feb. 3 letter thst he has sent to dozens of newspapers in North Carolina, Jackson wrote: "As a black man in America, I find it appalling that the University of North Carolina's Black Caucus would choose to issue a declaration of support to defend UNC even after the university admitted that it cheated young black men out of the best education possible on its campus." Jackson, a former corporate executive and public servant who has served Chicago in roles such as chief of education and assistant city budget director, added: "Maybe these esteemed faculty and staff of the UNC Black Caucus don't realize that their university students are not just competing among themselves in the big cities and small towns of North Carolina. Maybe they don't understand that being globally competent is a way 'bigger game' than football or basketball!"
Viewing the Chapel Hill mess from Chicago, Jackson appears to have better perspective than some of the university's employees. Here's hoping his letter gets wide circulation in North Carolina and beyond.
NOTE: Peter Grauer, the chairman of Bloomberg L.P., which owns Bloomberg Businessweek, is a trustee of the University of North Carolina at Chapel Hill and sits on its Foundation Board and the UNC Global Research Institute Board.
Before it's here, it's on the Bloomberg Terminal.
LEARN MORE