UBS Increases Bonus Pool 28% in 2013 on Return to Profit
Elena Logutenkova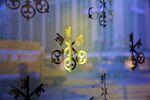 UBS AG, Switzerland's biggest bank, increased its bonus pool 28 percent for 2013 as it returned to profit after a loss the previous year on reorganization charges and a fine for trying to rig global interest rates.
The bonus pool, including pay deferred into future years, grew to 3.2 billion Swiss francs ($3.5 billion) from 2.5 billion francs, the Zurich-based bank said today. UBS will again award part of pay in deferred awards that can be wiped out if the bank's capital falls below a predefined level.
UBS and Credit Suisse Group AG, Switzerland's biggest banks, are both using contingent capital bonds as part of their compensation to boost capital ratios, align the interests of employees and shareholders and give incentives to limit risk-taking. UBS is paying about 500 million francs in bonds that will be written off if the bank's common-equity ratio falls below 7 percent or the company needs a bailout. For the executive board members, that trigger was raised to 10 percent.
"In 2013 we finished a transformational year ahead of the majority of our strategic and financial targets," UBS said in a statement. "We normalized performance award levels in areas impacted negatively last year and reduced gaps to market pay in light of our absolute and relative achievements."
UBS's fine on charges of attempting to rig benchmark interest rates in 2012 hurt bonuses at the investment bank, some areas of the corporate center and the executive board, the bank said. That year's total bonus pool was down 7 percent from 2011.
Attracting Talent
UBS reported a fourth-quarter profit today that beat analysts' estimates on lower litigation costs and a tax gain. The bank posted net income of 3.17 billion francs for 2013 compared with a 2.48 billion-franc loss for the year earlier.
"In the last two years, the variable compensation pool was massively reduced," Chief Executive Officer Sergio Ermotti said in a Bloomberg Television interview. "This year we had a very strong year. If you normalize, everybody is benefiting."
The company decided to increase the threshold for pay above which compensation gets deferred to 300,000 francs from 250,000 francs, Ermotti told journalists on a conference call. A range of deferral rates was introduced, compared with a flat rate previously, the bank said, without elaborating.
Raising the threshold for deferred compensation will make UBS more competitive, Ermotti said. The award of bonds to executive board members that would be wiped out at a higher capital level than for the rest of employees is a "sign of confidence," he said.
Taking Risk
"We want to show that the group executive board is willing to take risk on its deferred compensation well above the rest of the employees" and stakeholders who purchased contingent capital bonds with a 5 percent trigger, Ermotti said.
UBS is still considering how to comply with the European Union directive on pay, Ermotti said. One of the measures the bank is deliberating is using allowances to supplement fixed pay to address caps on bonuses, he said, adding that staff will be informed in the "next couple of months."
UBS has been bringing in prominent investment bankers to gain market share. The bank said last month that it hired Rair Simonyan and Elena Titova, formerly Morgan Stanley's top bankers in Moscow, to lead its business in Russia. The bank hired William Vereker from Nomura Holdings Inc. last year as head of investment banking in Europe, and Piero Novelli as chairman of global mergers and acquisitions.
Cash Awards
The bank will pay about 1.9 billion francs of the total bonus pool in cash and 800 million francs in deferred stock awards, it said. For 2012, the company paid about 1.4 billion francs in cash, 500 million francs in contingent capital bonds and 600 million francs in deferred stock.
About 900 million francs of the 2013 awards will be amortized in future years, leaving the cost of variable compensation for 2013 unchanged at 3 billion francs from the year earlier, UBS said.
Credit Suisse told employees last month that about 20 percent of 2013 deferred pay for directors and managing directors will be granted in the form of contingent capital bonds.
Before it's here, it's on the Bloomberg Terminal.
LEARN MORE