Microsoft Joins Sprint in Pledging to Obama's School Plan
Jonathan Allen and Angela Greiling Keane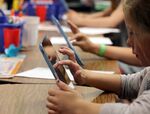 Microsoft Corp., Apple Inc., Verizon Communications Inc. and Sprint Corp. are among the companies pledging more than $750 million in computers, software and services to an Obama administration project to give almost all U.S. students access to broadband and wireless technology.
President Barack Obama highlighted the commitments, which will be coupled with $2 billion in funding from Federal Communications Commission reserves, during a visit today to a school in the Washington suburb of Adelphi, Maryland.
"My country invested in me," Obama told students, staff and local officials at Buck Lodge Middle School. "I want America to now invest in you."
The president's aides said the partnership with the companies was part of Obama's vow to use executive authority and to work with private groups to bypass Congress to advance his goals. In recent days, he has announced an increase in the minimum wage paid to some federal contractors, a new retirement-account plan for workers, and an agreement from companies to help the long-term unemployed to find work.
Microsoft's pledge, to provide deep discounts on the price of its Windows operating system for public schools and 12 million free copies of its popular Office software for certain qualifying schools, is one of the most valuable, National Economic Council Director Gene Sperling said on a conference call last night. Microsoft said its offer of subsidized hardware and software would save schools more than $1 billion, according to a company news release distributed by the White House.
IPads, MacBooks
Apple is providing $100 million in iPads, MacBooks, software and support to schools through the program.
"Education is in Apple's DNA, and we're passionate about helping inspire students around the world to learn in new ways using our innovative technology, incredible apps, interactive textbooks and customizable tools for teachers," said Kristin Huguet, an Apple spokeswoman.
AT&T Inc. and Verizon also promised $100 million, with the former providing mobile broadband services and the latter contributing money and in-kind services to expand digital learning initiatives, the White House said in a fact sheet.
Sprint plans to provide wireless service for as many as 50,000 low-income high school students in the next four years, according to the White House. Autodesk Inc., which provides engineering and design software, and technology publication company O'Reilly Media Inc. also made pledges to the program.
'Future Leaders'
"This initiative will build on the efforts of today's most innovative tech companies to help make our nation's children better students, problem solvers, creative thinkers, and future leaders," Dan Hesse, Sprint's chief executive officer, said in a statement.
Sprint's four-year commitment begins Sept. 1, the company said. Microsoft said its education offer begins immediately, according to a company statement.
"The private sector has answered the president's call," Sperling said. Companies "have recognized the compelling national need."
Obama announced the goal of connecting 99 percent of American students to high-speed Internet service within the next five years last June.
"In a country where we expect free wi-fi with our coffee, we should definitely demand it on our schools," Obama said at Buck Lodge Middle School.
Technology Program
It is one of four middle schools in Prince George's County selected to integrate iPads with the curriculum through a project known as Transforming Education through Digital Learning. Each student gets a tablet to use during classroom instruction, in taking tests and for homework.
An existing program known as E-Rate, which helps pay for connections through a tax on a portion of subscribers' telephone bills, provides $2.4 billion annually and has connected virtually all U.S. schools and libraries to basic Internet, according to the FCC.
The agency said yesterday it would invest an additional $2 billion over the next two years to connect 20 million students in at least 15,000 schools to high-speed Internet connections.
Before it's here, it's on the Bloomberg Terminal.
LEARN MORE