Putin's Olympic Hope: A Puny Ruble
by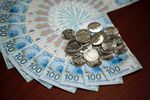 There may not be enough snow in Sochi and there's a flurry of terror threats, but global currency markets are lining up nicely for the Feb. 7 start of the Olympic Games in Russia.
The Russian ruble has crumpled like an exhausted figure-skater the past few months—all glitter and sweat and agony—making a trip to the shores of the Black Sea a lot more enticing for sports fans the world over.
For those who keep their cash in dollars, paying for a room at the Tulip Inn Rosa Khutor Hotel (the top-ranked Sochi lodging on Tripadvisor.com) is about 7 percent cheaper than it was six months ago.
For EU residents dining at the Belye Nochi restaurant, a nice spread of spiced meat khinkali—a kind of Georgian dumpling—will run about 9 percent less than it did in early August.
Even Japanese fans will get a deal. Their battered yen will command about 4 percent more at the official Sochi souvenir shop, where Olympics nesting dolls run 370 Rubles.
Those who booked a year ago will be even more pleased. The last time the ruble gained appreciably on the Continental currency was in July 2012. Against the dollar, it had a moment of strength almost exactly one year ago. The Russian currency has slid in value by almost 20 percent since then; this week it hit a five-year low.
A combination of factors have weighed on the currency. Emerging-market currencies across the world have flagged as investors skittish about high debt levels and tightening  by the U.S. Federal Reserve flee to safer havens. At the same time, the Russian Central Bank has moved to make a more flexible ruble, being far less aggressive in propping it up to a target rate. The aim is to get the ruble to stand on its own—or "float"—by next year.
In the meantime, the puny ruble is cause for celebration among Olympic organizers, who have struggled to lure spectators. Travel professionals told Bloomberg News that spectator interest in the Olympics hasn't been this low in decades. In late January, only 70 percent of 1.1 million tickets had been sold, and secondary markets show a supply glut. In comparison, the 2010 Winter Games in Vancouver were nearly sold out more than a year in advance.
Before it's here, it's on the Bloomberg Terminal.
LEARN MORE