Scary Utility Lessons From the West Virginia Chemical Spill
Paul M. Barrett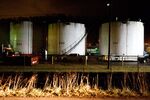 Fresh lawsuits are flying after the Jan. 9 chemical spill that cut off water supplies to 300,000 people in the Charleston, W.Va., area. Now comes word from Washington that the contamination represents a type of threat that exists all over the country.
The U.S. Senate Committee on Environment and Public Works' Subcommittee on Water and Wildlife is holding hearings on the West Virginia fiasco, an incident one expert witness said exposed "the many holes we have in current federal environmental laws." Erik Olson, a specialist on food, health, and water with the Natural Resources Defense Council, told the panel: "There are likely hundreds of other water companies, large and small, using surface water that simply cannot deal with a significant spill, release, or other major pollution in their watershed." Most municipal and regional water systems, Olson added, "do not use … modern technology, leaving them vulnerable to spills and other pollutants from upstream sources." (Here's a link (PDF) to his complete—and completely unnerving—testimony.)
The Charleston spill has drawn attention to a little-known chemical company called Freedom Industries, which operated a chemical tank farm on the Elk River, just a mile-and-a-half upstream from the sole intake for the region's water utility. The company, which denies wrongdoing, has filed for Chapter 11 bankruptcy-court protection in Charleston. Some 10,000 gallons of MCHM, a coal-processing compound, leaked into the Elk from a hole in a Freedom Industries tank. A containment wall meant to block the spread of such a spill turned out to be cracked and not up to the job, according the state inspectors.
Before it's here, it's on the Bloomberg Terminal.
LEARN MORE