SAC Capital Takes Down Its Shingle, Ponders New Name
by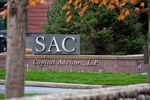 A massive insider-trading investigation has a powerful way of sullying a brand. Not surprisingly, SAC Capital Advisors is looking for a new name as it settles accounts with securities regulators and gets back to the business of investing. It's a fresh start for the Connecticut-based firm, and the possibilities are endless–at least until it bumps up against Web domain squatters and trademark protections.
SAC's branding advisers are certainly in good company. The recent recession and its fallout on Wall Street cultivated a wave of creativity in the industry: GMAC suddenly became Ally. AIG's property insurance arm became Chartis, and a wave of acquirers decided not to hang on to the brand equity in monikers like Bear Stearns and Countrywide.
When it comes to naming a finance company, there are a few popular genres. There's the mythic (Cerberus, Apollo, Phoenix), the ecological (Fir Tree, Broadfin, Serengeti), the equine (Appaloosa, Horseman Capital), the technical (Quantum Endowment, Pure Alpha, Two Sigma), and the geographic (King Street, Deer Park Road, Anchorage Capital). SAC could also turn to the Web, specifically hedgefundnamegenerator.com. Today it coughed up Liquid Road Associates, Yellow View Management, and Spring Road Securities, which seems both poetic and timely.
The first time around, SAC founder Steven A. Cohen went with another common strategy: his own initials. "We have taken to heart the government's criticisms of our business model and as we convert to a family office, we are making substantive changes," SAC said in a statement. Cohen has not been charged with a crime but faces a lawsuit by the U.S. Securities and Exchange Commission for allegedly failing to supervise employees.
Lippincott, a New York brand consultancy, says the best name changes speak to the future of the firm. "It needs to speak to 'What we're going to stand for that's different," says Senior Partner Michael D'Esopo. "And 'How we want employees to behave differently.'"
Of course, a name is mostly critical for brand recognition and winning assets. As a so-called family shop, closed to outside investors, the new SAC won't be doing any of that, which really opens up the realm of possibility.
Given the new structure and Cohen's fondness for poker, Full House Capital might work. Still Kicking comes to mind as well, as does Dark Pool Partners—heck, Blackwater sounds convincingly hedge-fundish and might even be up for grabs these days. Our humble suggestion: Closed for Business Capital Advisors.
Before it's here, it's on the Bloomberg Terminal.
LEARN MORE