Monte Paschi Foundation in Talks to Sell Stake in Bank
Sonia Sirletti and Elisa Martinuzzi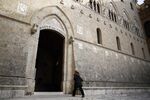 Fondazione Monte dei Paschi di Siena is in advanced talks mainly with foreign investors to sell its stake in the world's oldest bank while there are no discussions with Italy's foundations, said Chairman Antonella Mansi.
Fondazione Monte Paschi, which holds about 33 percent of Banca Monte dei Paschi di Siena SpA, is seeking to cut its holding by May to raise funds and avoid insolvency, Mansi said in an interview yesterday in Rome. She favors strategic buyers for the stake though she hasn't ruled out any potential suitors.
"We're working on several fronts, since January we have started again discussions with some investors," Mansi said. Asked to comment on recent press reports that other charitable banking foundations may seek to acquire the holding, she said: "There has never been a negotiation and there isn't one today."
Mansi, 39, is trying to bolster the non-profit foundation's finances after debt mounted as it borrowed to back Monte Paschi's capital-raisings. Italy's No. 3 lender tapped investors to help fund the acquisition of Banca Antonveneta in 2008. Now, the foundation and its adviser, Lazard Ltd., are seeking buyers for its shares to repay about 450 million euros ($608 million) in loans and avoid a default.
Shares Gain
Monte Paschi is the second-biggest gainer on the Euro STOXX Banks Index today. The bank rose as much as 3.5 percent to 17.44 cents and was trading 1.8 percent higher at 17.2 cents as of 10:18 a.m. in Milan, giving the lender a market value of 2 billion euros.
Mansi didn't identify the investors she's in talks with, nor did she elaborate on the price the foundation is seeking for the stock. The foundation may sell shares to one or more investors, Mansi said.
The ideal solution for the foundation would be to keep a small stake in the lender, raising enough funds to pay back debt and contribute to Monte Paschi's planned 3 billion-euro capital increase to avoid a big dilution, Mansi said.
"The disposal of the stake held by Fondazione MPS before the launch of the rights issue would be positive," Manuela Meroni, a Milan-based analyst at Banca IMI SpA, wrote in a note today. A sale by the foundation would reduce pressure on the stock price during the capital increase and limit the expected discount for the offering, Meroni said.
Loan Collateral
The foundation has put up its stake as collateral for about 350 million euros of loans. A dozen creditor banks will take ownership of the shares if Monte Paschi's stock falls below 12.8 cents apiece, a person with knowledge of the transaction has said.
In a Jan. 27 meeting in Rome, the Italian Treasury urged Fondazione Monte Paschi to cut its stake in the lender and sell stock to new "stable investors" that can take part in the bank's planned rights offering.
While Mansi is trying to reduce the stake, the bank is under pressure by regulators to repay state aid by the end of the year. Mansi opposed management's proposal to sell stock in January at a Dec. 28 investors' meeting to allow the foundation to have more time to find buyers.
"My first goal was to rescue the foundation," the chairman said. "I perfectly understood the consequences of our position on the capital increase."
Legal Probes
Monte Paschi, engulfed in legal probes of alleged misconduct by former managers, is turning to investors after CEO Fabrizio Viola, 55, agreed to partially reimburse 4.1 billion euros of state aid this year to win European Union support for its restructuring plan.
The EU toughened bailout conditions after the bank said its accounts didn't reflect earlier losses. In one such transaction, dubbed Santorini, Bloomberg News in January 2013 reported how the contract masked losses, prompting Monte Paschi to restate its accounts.
Former managers of Monte Paschi are on trial in Siena, Italy, for obstructing regulators on a transaction with Nomura Holdings Inc. by allegedly withholding a document that illustrates how the bank hid previous losses. Prosecutors in Siena are also seeking charges against former managers for market manipulation and falsifying market filings.
The bank pays 9 percent annual interest on the bonds it sold to the government in the bailout and must swap the debt for stock if it doesn't have the cash for the annual coupon.
Before it's here, it's on the Bloomberg Terminal.
LEARN MORE